Established on the southwestern shore of Lake Michigan, Milwaukee reflects the indelible industrial legacy of the Great Lakes region. Fueled by waves of immigrants, for more than a century the city hummed with foundries, machine shops and breweries. An urban renaissance has led the city to shed its industrial past and resurge to become a global hub for water technology and freshwater science. An identity that has SmithGroup tied to both its past and future.
While SmithGroup's current location in Milwaukee opened in 2019, the firm's roots in the city go back several decades, having had an office in the city during World War II to manage the design of munitions plants in the region. More recently, the firm has had an impact on the region with well-known projects including Lakeshore State Park, Pier Wisconsin at Discovery World, Lake Vista in Oak Creek and 69th Street Center in Wauwatosa. Our expertise in urban design, architecture and waterfronts has played a significant role in revitalizing former industrial centers and transforming waterfronts throughout the world.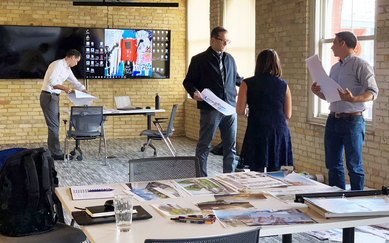 We continue to build on that reputation and the impact we've made in the region with clients that include the City of Milwaukee, Milwaukee County Parks, the Milwaukee Harbor District and Marquette University. Our office along the Milwaukee River in the Saddlery Building—an open, collaborative space that once housed saddle makers and sail makers—lies in the heart of the city's thriving entrepreneurial hub, the Historic Third Ward.