Independent Bank Breaks Ground On New Headquarters, Designed by SmithGroup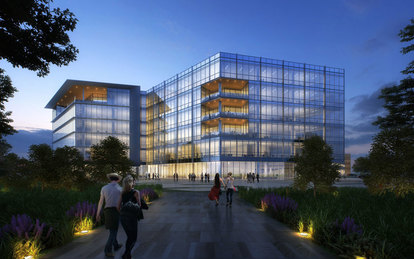 New headquarters building will redefine the company's roots in McKinney
The groundbreaking for the McKinney-based Independent Bank Group's new 165,000-square-foot corporate headquarters was held on January 17, 2018. SmithGroup is providing integrated design services including architecture, interior design and mechanical, electrical and plumbing engineering. Located at the McKinney Corporate Center Craig Ranch and slated for completion in December 2018, the Class A office building will be a standout on the McKinney, Texas skyline along the Sam Rayburn Toll Road (SRTR).
The core team for this 10.4-acre site and building consists of the Independent Bank Executive Team, developer KDC, commercial real estate firm Avison Young, design firm SmithGroup and general contractor Rogers-O'Brien. During the groundbreaking, several individuals spoke passionately about the project and what it will mean to the McKinney community, bank employees and the legacy of Independent Bank.
According to SmithGroup's lead designer, Tom Philippi, "the design for the new headquarters strives to make a deep connection with the community, its stakeholders, employees and surrounding region by architecturally representing the evolution of the company Independent Bank has become."
A strong but unassuming material palette has been selected for the building skin. Glass and metal finishes will be the dominant curtain wall components. In an effort to warm up the overall palette, wood soffits are used at the balconies, the sixth floor terrace and entry overhang.
The vision of the building's interior design will be harmonious with the exterior design. Bringing exterior materiality into the lobby such as natural stone, metals and glass will evoke a sense of stability, solidity and permanence.
 "We chose SmithGroup as our design partner because they were able to, quite gracefully, articulate our vision. The design of our new headquarters building embodies the culture of Independent Bank, our purpose-driven approach, and continued commitment to community." said David R. Brooks, CEO, Independent Bank. Once complete, approximately 400 employees are expected to occupy the new headquarters.
The new office building is targeting LEED Silver certification. Sustainable design features include cost efficient, energy efficient, environmentally friendly and easy to maintain systems throughout. All systems will have energy metering to assist in optimized energy use strategies to conserve energy, reduce water consumption and provide indoor air quality consistent with engineering standards.
Independent Bank Group, through its wholly owned subsidiary, Independent Bank, provides a wide range of relationship-driven commercial banking products and services tailored to meet the needs of businesses, professionals and individuals.  Independent Bank Group operates 70 banking offices in four market regions located in the Dallas/Fort Worth, Austin and Houston, Texas and the Colorado Front Range areas.
For more information about SmithGroup, please visit our Company Fact Sheet.