American Institute of Architects Academy for Justice Honors San Diego County Sheriff's Crime Laboratory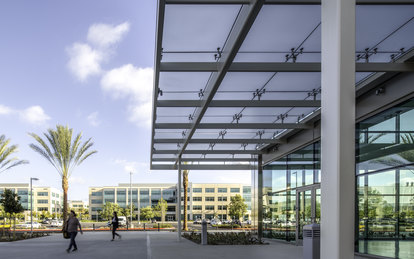 The American Institute of Architects (AIA) Academy of Architecture for Justice (AAJ) has recognized the San Diego County Sheriff's Crime Laboratory in its Justice Facilities Review Awards program. The 158,000 sf office and laboratory facility supports one of the largest sheriff's departments in the United States with a service area of over 4,200 square miles.
Each year, the Justice Facilities Review Awards document best practices in planning and design for justice architecture. Winning projects must demonstrate exemplary qualities in the following categories: functionality, security and safety, technology and accessibility, community impact, sustainability and economic feasibility, longevity and aesthetic achievement.
The San Diego County Sheriff's Crime Lab blends seamlessly into the County Operations Center campus while also standing prominently as a symbol of the County's commitment to making San Diego the safest urban county in the nation.
Opened in 2018, the facility collocates three entities in the Sheriff's Department: the regional crime laboratory which completes examinations for over 30 county, state and federal agencies; the major crimes division which is responsible for investigating the most serious crimes; and the property and evidence unit, which was previously spread out across two buildings.
Due to the evolution of forensic science, adaptability is of utmost importance. The laboratory plan is highly modular, allowing for significant flexibility and accessibility that can respond to future technologies or staffing needs. Casework and even the ductwork is modular, creating a flexible solution.
The SmithGroup design elevated the forensic mission by aligning open lab areas across the building, creating through-building view corridors to give staff unimpeded exterior views. A lobby display that showcases the critical nature of forensic services and a choreographed tour route along a glazed lab corridor allows the County to educate visitors without disrupting the lab environment.    
SmithGroup provided integrated design services including laboratory planning, programming, architecture, interior architecture and engineering. The general contractor was DPR Construction. Other key design team members included acoustical engineering by Charles M. Salter Associates, Inc., civil engineering by BKF Engineers and structural engineering by Degenkolb Engineering.
For more information about SmithGroup, please visit our Company Fact Sheet.