Fast Company Recognizes SmithGroup's Innovative Design of DPR Construction's Sacramento Office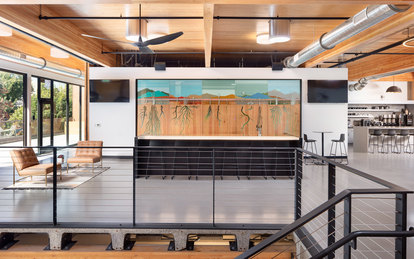 SmithGroup is pleased to announce that prestigious honors have been bestowed upon its design of DPR Construction's Sacramento office – named a Finalist in the Workplace category of Fast Company's Innovation by Design Awards for 2020.
This highly competitive program recognizes designers and businesses solving the greatest problems of today and tomorrow. Now in its ninth year, the competition is judged by designers from a variety of disciplines and business leaders from some of the most innovative companies in the world.
Adaptive reuse, mass timber, a thermal labyrinth and a seed wall to support reforestation following wildfires are just a few stand-out elements that elevated this SmithGroup-designed project in the eyes of the jury. Targeting Zero-Net-Energy, LEED Platinum and WELL Building certifications, this unique workspace in the City of Trees masterfully addresses a broad range of environmental, employee and community needs.
This project and all honorees of the Innovation by Design Awards will be published in the October 2020 print issue of Fast Company. To view a complete list online click here. 
This marks the third consecutive year that SmithGroup has been recognized in this prestigious international program—earning recognition for four additional projects since 2018. Being repeatedly recognized by a respected publisher like Fast Company alongside world-renowned enterprises such as Disney, Logitech, Microsoft, Nike and Google, is a measurable indicator that the firm is redefining design excellence and fulfilling its promise to design a better future for clients, communities and the world.