SmithGroup Provides Planning for Alternate Health Care Sites
As municipalities across the country have developed plans to address the COVID-19 pandemic in their area, SmithGroup has provided medical planning support to assess and design conversions of convention centers into alternate health care sites.
SmithGroup developed an overflow management study to the Office of Mayor Eric Garcetti for the conversion of the Los Angeles Convention Center into a 2400-bed "hospital decompression site" to care for both COVID-19 positive and negative patients, as well as become a walk-up testing site. In fewer than 24 hours, the SmithGroup team provided planning and test-fits for bed layout, triage, decon/intake, critical care, nourishment, family space, staff respite and transport intake.
In Dallas, SmithGroup partnered with AECOM to provide Dallas County planning assistance to convert the Kay Bailey Hutchison Convention Center into a "step-down" facility for COVID-19 patients well enough to be transported out of hospitals. The 250-bed "pop-up" hospital will be operated by a medical team from the US Navy.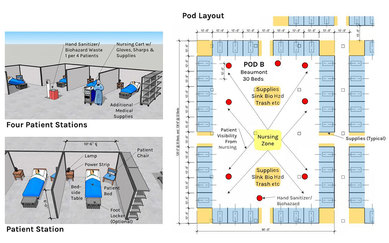 SmithGroup is part of a design-build task force, working with Walbridge Construction and the Army Corps of Engineers, city agencies, and manufacturers to provide preliminary planning services for the Devos Place Convention Center in Grand Rapids, Michigan. The site has been identified as a potential Alternate Care Site should extra capacity be needed.
The firm has also responded to urgent requests to assist hospitals across the United States in preparing for a surge in capacity by converting administrative space, patient units, operating suites and ambulatory surgery centers to accommodate COVID-19 patients.