Henry Ford Cancer Institute Opens New Pavilion in Detroit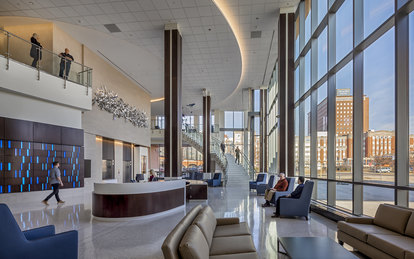 Today, SmithGroup celebrates the opening of the new Henry Ford Cancer Institute pavilion, connected by skywalk to Henry Ford Hospital in Detroit, Michigan. Tomorrow, the 187,000 sf, $155 million cancer pavilion welcomes its first patients.
The new pavilion is a global destination for seamless and integrated cancer care, and the anchor of the Henry Ford Cancer Institute, which provides world-class cancer care to nearly 10,000 new patients each year. It brings together the newest and most innovative treatment options, including specialty clinics for 14 types of cancer, precision medicine, clinical trials and supportive services in a patient-centered care environment.
"The input received from cancer patients, survivors, their families and clinicians during the design process helped us to make this facility a holistic healing environment," said Ann Kenyon, the principal in charge of the cancer pavilion's design and a vice president at SmithGroup. "The result is a destination cancer facility flooded with light, instilling a sense of comfort and hope, which exemplifies Henry Ford's core values."
The new facility is designed to integrate the Henry Ford Hospital Campus into the community with architecture that evokes Henry Ford's commitment to innovation and building hope in cancer care. Varied massing, contextual architectural references to existing hospital materials, color, and depth of detail creates a layered, human scale along West Grand Boulevard, with a contrasting six-story glass beacon and a 30-foot-tall lobby filled with natural light. The new cancer pavilion connects to the existing Henry Ford Hospital via the glass-enclosed Nancy Vlasic Skywalk over West Grand Boulevard.
The infusion center is bathed in daylight and positioned to give patients views of the cityscape, while providing individual privacy and comfort. Mosaic glass tile accents in Henry Ford blue provide a touch of artful sophistication in each infusion bay. The pavilion offers some of the most advanced therapy options available in its radiation oncology clinic and stem cell transplant and cellular therapy clinic. These spaces are specially designed to provide the most advanced personalized medicine available.
Clinic rooms are enlarged to support both family members and team-based care, where a patient meets with their entire team of experts specializing in their cancer. This operational model brings all treatment and consultation activities to one location, rather than the patient traveling to meet different members of the clinical care team. Collaboration spaces are designed throughout the facility to allow oncologists and specialists to easily work together on personalized, multi-disciplinary treatment plans as well as clinical and translational research. One such space, the Tumor Board room, allows even the largest care teams to collaborate with specialists around the world to coordinate and develop treatment plans for the most complex cancers.
Ensuring the new facility provides comprehensive healing beyond treatment, the pavilion supports nutrition and wellness planning, counseling services, and nurse navigators, as well as a same-day urgent care center for medical concerns specific to the needs of cancer patients. Quiet meditative spaces, such as the third-floor terrace, Healing Arts Gallery and Art Walk, provide comfortable and calming spaces of respite for patients and their families. The pavilion also features special gathering places for patient and caregiver support groups, yoga classes, music and art therapy.
"Our new cancer pavilion is designed to deliver an exceptional care experience surrounded by compassion, comfort, innovation and hope," said Madelyn Van Tassel, Interim Vice President and Executive Director of Henry Ford Cancer Institute. "A cancer diagnosis can be one of the most difficult and frightening moments in a person's life. Our care teams are committed to guiding each patient through their unique journey and recognize that every interaction is an opportunity to support our patients' wellbeing."
SmithGroup's Health Practice encompasses a spectrum of specialty expertise, including strategic consulting, facility planning and design for all types of public and private health organizations. The firm is the 6th largest healthcare architecture firm according to Modern Healthcare magazine. SmithGroup's experts design cancer care environments to enhance the wellbeing of patients, empower caregivers, and balance advanced treatment technologies with humane settings that encourage empathy and hope. SmithGroup has designed some of the most advanced and innovative cancer care facilities for organizations like Dana-Farber Cancer Institute, Emory Healthcare Winship Cancer Institute, Loyola Medicine, UC Davis Health, McLaren Health Care and UT Southwestern Medical Center.
SmithGroup's Detroit office provided integrated design services including medical planning, programming, architecture, interior architecture, MEP engineering, structural engineering, lighting design, landscape architecture and environmental branding. Turner Construction (Detroit) served as the general contractor and SDG Associates (Detroit) as the architect for the skywalk. Rich & Associates Parking Consultants (Southfield, Michigan) served as the architect for the parking deck, and Enviah (Grand Rapids, Michigan) provided patient experience and organizational alignment consulting.
For more information about SmithGroup, please visit our Company Fact Sheet.