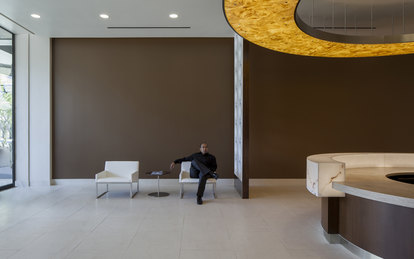 There is a certain satisfaction in seeing a project come to a close and watching it come to life, serving its intended purpose and seeing people occupy the spaces you worked so long to design. Many architects say projects are like children: you never have a favorite. But we would be lying if we didn't acknowledge that, in the end, some are measured as more successful than others, for one reason or another. For many, it's the combination of the right team, design, client and contractor that makes a project successful, or perhaps some will measure success based on publication, special recognition or accolades.
To me, the success of a project comes in a form that is not so measurable. On the completion of the Comprehensive Transplant Center for Cedars-Sinai in Los Angeles, I rediscovered what for me is the best part of my job and how I measure the success of project. While on a tour of the project one of the staff told me that they had nicknamed the building "The White House," because of the architecture of the building the center occupies. She went on to tell me that they call the program director's office (housed in a turret) "the Oval Office," the executive conference room "the Situation Room," the U-shaped administrative office floor splits into the "the East and West Wing," and the outdoor terrace is "the South Lawn."
It may be a bit of silliness in a serious space, but it tells me is that they have embraced this project in a way that I could not have predicted. This new space has become not only a place to work and treat patients, but an integral part of their culture and who they are as an organization. To me that is a true measure of a project's success. When it happens it is more rewarding than anyone could ever imagine.