Bringing an LA Vibe to the SmithGroup Brand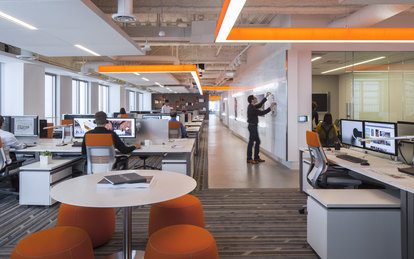 When I was asked to lead the design of our new Los Angeles office, I knew that this would be one of the greatest challenges of my career. Overlooking the age-old challenge of designing a space for yourself, I looked forward to the opportunities that would be key to the success of this project. I saw those opportunities as incorporating our firm's workplace strategy initiatives tailored to our workflow; designing a space for a small, unified studio; and bringing the first SmithGroup branded space to Los Angeles.
Conceptually, I felt there needed to be one central element that flowed through the space unifying areas and spaces within the office. In practice that element became a series of modular light fixtures that move through the office linking open office areas to destination points such as conference rooms, reception, collaboration and communal spaces. By layering this element over our workplace strategy of flexible space and a plan that reflects the "we" over the "I," employees have multi-purpose areas to spontaneously network, collaborate and socialize in a unified setting. Interestingly enough all of the elements are there, but when I mentioned bringing the brand to LA a colleague asked me what I thought our brand was. Honestly, it took me a few minutes to really think of how that question should be answered.
I knew from the beginning that the architecture had to speak to who we are as a company and who we are as a team in Los Angeles. It is a mood, a feeling or a nuance that reflects our brand, not the tangible such as standardized furniture, finishes and colors that we use in our offices company wide. As a company I knew that our space needed to be first and foremost a place that fostered and reflected the creativity and innovation for which SmithGroup is known. It also needed to be a place that matched our commitment to the environment and sustainable building practices. Leading that direction the architecture of the space is creative, modern, open and collaborative.
Again all the elements are there, however I came to the realization that the heart of our company and the core of our brand is our people. To incorporate that ideal into our space we had a pin board set up for staff to post ideas and a place for periodic discussions about the design of the new office. We introduced architectural elements that made the space not only feel like SmithGroup, but that were distinctly Los Angeles as well. The finished space has the comfortable feel of a live/work environment that fits our local style, a modular wall that recalls rich collection of mid-century modern architecture in Southern California, and exposed ceilings and concrete slabs that subvert the corporate for raw creativity.
As we pause to celebrate the completion of our new office, I am pleased to present our vision for our workplace—one that in the end represents SmithGroup, Los Angeles and the people who make us who we are.
For a closer look, check out SmithGroup Los Angeles Office: Looking to the Future.