Variability: Concept, Stimulant, and Catalyst
In order to better promote collaboration, foster creativity, and augment productivity, the SmithGroup Chicago office reimagined their space and moved into a new agile office.  Various new workspace typologies were introduced: team-based pods, interspersed café-style booths and lounging, adjustable-height desks, material and craft workshopping tables, individual and multi-person phone rooms, and small to large conference rooms. Even the technology received an upgrade, enabling staff to plug a laptop into any station and work.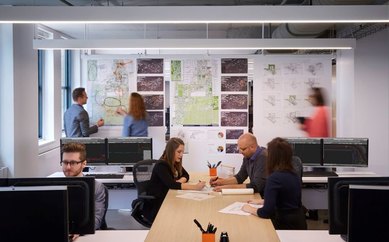 Along with this theory that agility would increase productivity came anxiety. I was hesitant to embrace a concept that was never an aspect of my prior experiences – a mutual feeling among many of my peers. As I began to understand what flexible seating and an agile workplace meant, that feeling of anxiety and reluctance to change subsided, for the most part. In the spirit of progress, I welcomed the first day in a new environment.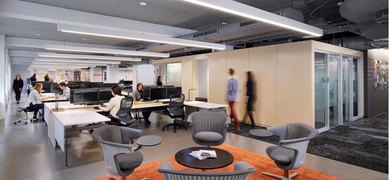 Since move-in day, it was my personal goal to test each unique space. I experienced that variability is more than just a concept, it's a stimulant, a catalyst. It's allowed me to participate in group discussion around a project team centered setting, or retreat to a more secluded location for individual-based work. It enables me to stand at an adjustable-height desk in an effort to stave off the after-lunch slump, or leisurely lounge in a booth, coffee in hand. I experienced firsthand that variability induced movement in an otherwise stagnant workflow.
I experienced that variability is more than just a concept, it's a stimulant, a catalyst.
When I need to catch up on emails, there's a place for that; when I need to finish a drawing, there's a place for that; when I need to take part in team discussion or exchange thoughts and ideas to team members in other states, there's a place for that. I now have a setting for every mood and task. Not only how I do my work, but also where I do my work is now at my discretion, giving me a better grip on productivity.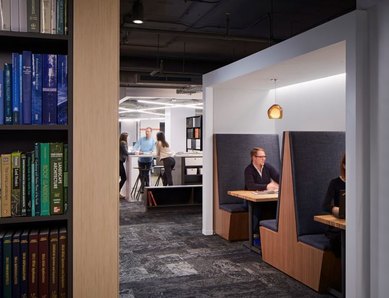 The mutable habitat of each workspace influences ingenuity and collaboration. Nomadic neighbors promote a healthy community. Communal spaces such as "The Corner," the kitchen and café area, further enhance the social dynamic. Variability has laid a foundation from which innovative design and creative thinking can flourish, and as we mature in our new home, this restructured approach will enrich our operation, aid in strengthening our brand, and further our mission to better the world via great design.