Connecting Data with Community Values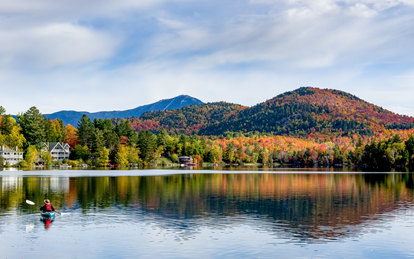 Our team at SmithGroup has embarked on a new project with Clarkson University to explore how data and connectivity can support community goals, and what a Smart Cities framework means at a regional scale. As we embrace a more connected world through the Internet of Things (IoT), we have a myriad of data at our fingertips, making it important to discern which data are crucial to significantly impact quality of life and meet community needs. Equally important are the questions of who does the data serve, and how can technology be used to facilitate transparency and dialogue in decision making? Clarkson University will engage students and the community of Lake Placid, NY –- while leveraging a faculty skilled in data analytics and community development with the support of SmithGroup -– to ask these questions while generating a vision for what a smart Lake Placid looks like.
As a rural community in the Adirondack High Peaks region, Lake Placid boasts a strong tourism industry practically year-round. Between the 1980s Winter Olympics centers and the local wilderness, the area hosts events that attract 1,500 or more people in a single weekend. This can overwhelm infrastructure and leave their 2,000 residents feeling second place. The mayor and representatives must make decisions that support local assets -– from natural resources to their residents -– and simultaneously capitalize on the tourist economy. Given that Lake Placid is not the only locale with such challenges, understanding how technology works for this this village may present repeatable processes for other tourism-centric economies.
Underlying this endeavor is the investigation of how smart technologies support a population of a few thousand compared to millions. In partnership with the US Green Building Council, LEED for Cities/Communities (LFC) -– which has certified cities as large as Phoenix and as small as Lancaster, Pennsylvania -– will provide a launching pad for conversations around performance metrics. Lake Placid, and later Schenectady, NY, provide Clarkson with two case studies for how data-driven sustainability frameworks can successfully advance community aspirations when there are varying resources and opportunities. As cities across the world strive to become smarter and more connected, ensuring that initiatives align with community engagement and goals won't be one-size-fits-all. Ultimately, being smart not only points to IoT and metrics, but solidifying a commitment to advancing social problem solving.