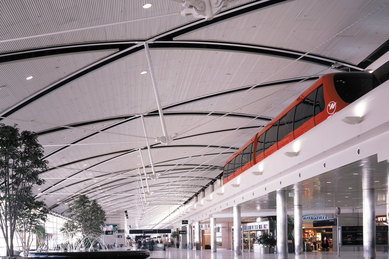 Benefits of Long Span Construction
Long span structures can create expansive views, future flexibility in a range of building types.
Quite often when someone refers to a long span structure the first things that come to mind are bridges, airplane hangars, or stadium roofs. Traditionally, long span construction was used in structures that had very specific functional requirements whether it be to cross a river, contain large moving objects or an athletic field. However, more and more buildings are seeking unobstructed, column-free spaces with expansive views, daylight and future flexibility. These characteristics create interesting opportunities for structural engineers, as well as, the entire design team, construction team and project budgets.
In some facilities, airport terminals for example, long span structural systems can create a defining architectural feature as well as expansive open day-lit spaces that facilitate passenger movement and future flexibility. The Detroit Metropolitan Airport McNamara Terminal exemplifies how a creative application to a king post truss system can be used for architectural expression while spanning approximately 135 feet for the length of the mile-long departure hall.
Atriums, whether they be at building entrances or covered courtyards within a facility, are another example where long span construction is utilized to create expansive 
spaces and serve as an architectural feature. The four-story, 16,100-square-meter, sky-lit atrium at First Automotive Works Research & Design Center provides a centerpiece for the research complex. Long span structural members were designed to extend a slim profile to minimize their appearance and create an open environment infused with daylight.
Long span construction is also finding its way onto college and university campuses in buildings other than performance and athletic complexes. Many campuses are seeking buildings that can accommodate state-of-the-art research facilities, high-occupancy classrooms, technological learning environments and office support spaces. Program and functional requirements typically result in large, column-free classrooms and auditoriums on the lower levels of a building; with smaller, more specialized learning spaces on the upper floors above that often have unique loading or stringent vibration requirements. Steel combined with careful planning is a common solution to these programmatic and structural challenges, with large members or even full floor height trusses to transfer the loads and achieve the desired performance.
If atriums, auditoriums, expansive views or large, open spaces are on the wish list for your next project, long span construction may help to achieve functional and aesthetic design goals.