Material Transparency, part two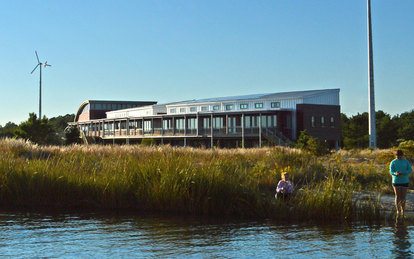 It's time to change
SmithGroupJJR is working with the Chesapeake Bay Foundation (CBF) on a new facility, the Brock Environmental Center in Virginia Beach, Virginia. Over a decade ago, the firm collaborated with CBF on the Philip Merrill Environmental Center, a ground-breaking facility that became the world's first LEED Platinum building. Today, such design leadership is represented by the Living Building Challenge, which the entire team has embraced whole-heartedly. This has led SmithGroupJJR to fully document the materials in the building for compliance with the Red List and Appropriate Sourcing Imperatives. Knowing that it was one of over a hundred teams grappling with this high standard of aspiration and documentation, SmithGroupJJR actively sought other teams who were further along so it could use their research as a starting point and move the collective knowledge base along more quickly.
To SmithGroupJJR's disappointment, in correspondence and in conversation at the Living Future (un)Conference, it was only able to find a single team, SERA, who felt comfortable sharing the work that it had done, even with the offer of a mutual sharing agreement. For the past six months, SmithGroupJJR has exhaustively researched the range of materials that it expects to use in the building. While not finished, the firm is underway and now has something to offer the conversation.
Now, SmithGroupJJR is stepping forward to share. In December 2012, the firm published the URL for its materials research database for the Brock Center. It does so with appreciation for and the support of Hourigan Construction, its partner in this project and research, and with the encouragement of both the CBF and Skanska, the owners' representative. SmithGroupJJR hopes that its efforts can be used as a starting point for others searching for healthier and safer buildings. The same holds true for colleagues already on this path who are looking for verification.
SmithGroupJJR asks that anyone who spends time with the data to please advise the firm if there are any errors or overlooked opportunities. This is especially true of any manufacturers who may review the representations of their products; if there was a misunderstanding of what was gleaned from product literature or correspondence, SmithGroupJJR requests to be notified.
Finally, SmithGroupJJR encourages other firms to join it in publishing their own research. It's an opportunity to all learn together.
The Brock Environmental Center Materials Database
The information we are sharing was compiled by SmithGroupJJR and Hourigan Construction. This information is based upon our knowledge and beliefs, and under no circumstances do we make any representations that you have a right to rely on this information. Rather, we recommend that you independently investigate the items that are of specific interest. Finally, SmithGroupJJR and Hourigan Construction makes no warranties, expressed or implied, of merchantability or fitness for any particular purpose.