CampusForward: The Lasting Effects of COVID-19 on College Campuses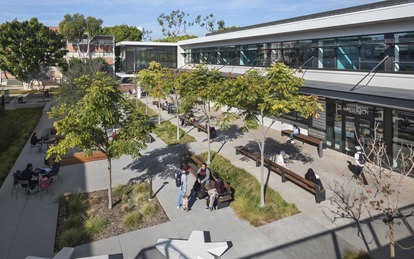 Colleges and universities across the nation are grappling with tough decisions due to the unknown long-term implications of the global COVID-19 pandemic. Questions around maintaining social distancing, effectively and equitably deploying hybrid learning, adjusting for fluctuating enrollment numbers, and retaining students and faculty amidst the drastic changes on campuses cannot yet be answered.  
In response, SmithGroup's Higher Education Practice leaders interviewed academics, administration and faculty from various institutions across the U.S. to gain insight into how they are responding to the short- and long-term impacts of the COVID-19 pandemic.  
Our survey was based on our CampusForward framework, which connects the seven drivers of change influencing higher education to the physical space solutions unique to each institution. The drivers include:  
Demographics & Culture 
Technology 
Funding 
Private Partnerships 
Pedagogy & Scholarship 
Student Experience 
Resiliency & Sustainability 
We have identified opportunities for institutions to embrace change, from increasing their impact on issues of justice, equity, diversity and inclusion to leveling the digital divide and from examining the benefits of experiential learning to the rise of adaptable, resilient campuses.
CLICK HERE to access "CampusForward: Emerging Scenarios."