What the Evolution of Ambulatory Care Means to Providers and Designers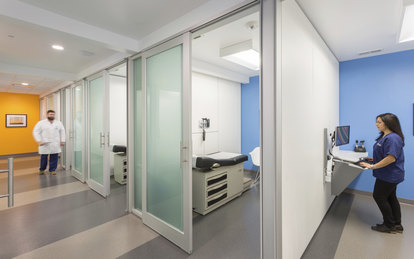 Ambulatory care is an ever-evolving category of healthcare delivery. Defined as medical care provided on an outpatient basis, ambulatory care encompasses diagnosis, observation, consultation, treatment, intervention and rehabilitation services, with ambulatory patients typically seeing their primary care physician on a semi-regular basis for quick visits. The growth of this type of care is being driven in part by patients, who are seeking more low-cost convenience and access, as well as advancing technology. Payor incentives, particularly Medicare, are also a factor, as insurers encourage the shift to a lower-cost, value-based care setting.
The Advisory Board Company, a trusted and renowned partner in healthcare delivery and marketplace research, provides exclusive insights and tools to help leaders in the healthcare industry work smarter. In October 2019, we partnered with the organization for an educational session in Denver, led by Ken Leonczyk, Jr., an Executive Partner at the Advisory Board. These are some of our insights about how ambulatory care is evolving learned at that event.
The Advisory Board Company currently categorizes the different ambulatory care models into:
Ambulatory Surgery Centers
Medical Office Buildings
Hospital-based Ambulatory Care
Urgent Care
Freestanding Emergency Departments
Micro Hospitals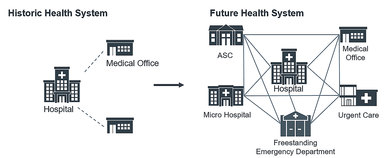 Similar to the economic efficiency that is gained at a healthcare campus or large facility with co-located services and sharing of underutilized spaces, ambulatory centers can capitalize on the efficient use of space and depend on surrounding functions and amenities to compete with other like centers. Outpatient campuses are increasingly responding to demands such as:
Convenience of location
Branding and identity of place
Ease of environment and wayfinding
Care-coordination cross-facility/-discipline/-service/-system
Extra space for co-located services
Increasing use of telemedicine
As a result of this increasing growth, ambulatory centers now make up 58% of recently constructed and planned projects nationwide. Orthopedic, cardiovascular, neurosciences and surgery service lines have the highest projected growth rates, primarily driven by the needs of an aging population. And while it is assumed that this network of outpatient services is a more efficient use of space and staff, healthcare systems are struggling to allocate funds and resources to a broadening portfolio of service locations and dispersed staff and care; a trend we are seeing in Colorado. The design and maintenance of each, often widely distributed, care center is important, but competition between multiple centers under the same healthcare system is a challenge.
Does the reimbursement rate at higher volume, higher revenue outpatient centers outweigh the cost of inefficiencies in managing multiple buildings, sites and personnel?
While this question seems simple, the business model is unpredictable enough that systems don't always include these smaller capital improvement projects in their broader business plan. Satellite ambulatory service centers often emerge as systems react to market moves and reimbursement rates. This is perhaps a consequence of the rapid shifts in healthcare and reimbursement policies, leaving providers and systems unable to plan with certainty.
Of course, healthcare systems must respond to external forces, including the market, the local patient population, and reimbursement rates. At the same time, though, they face internal effects downstream of those external forces. Staff, physicians, and individual departments are invested in and affected by fund allocation. With the shift away from historically singular hospital facilities toward more diversified healthcare campuses containing multiple buildings and revenue streams, turf wars can emerge. The Advisory Board research shows that an objective process of determining need, alignment with the strategic plan, clarification and communication of the business case, and a transparent allocation of resources and funds is important in staff and physician retention.
Ambulatory care is a classic example of the economic model of supply and demand but perhaps flipped to resemble a more reactionary version: demand and supply. Today, a substantial portion of millennial patients increasingly seek care at urgent care centers and emergency departments, due to the perceived inconvenience of engaging with a primary care office and the mindset that a primary care physician is not needed. This triggers an increased need for on-demand care delivery. The demand for a more consumer-friendly care model is swinging quickly and heavily toward an imbalanced or insufficient supply chain. Non-urgent patients are adding unnecessary volume while reducing demand for primary care delivery during regular business hours. It seems there is a gap in the market: a new, non-emergent, consumer-type of care delivery to reduce the inappropriate use of ED and urgent care facilities.
Nationally, the Advisory Board notes that freestanding emergency departments are increasingly less efficient uses of capital and that these emergency ambulatory care sites are closing in some states. However, in Colorado, some of our clients shared that the freestanding emergency model is aligned with their larger system business plan and have not proven to be fiscally problematic.
At the same time, rural communities in Colorado and nationwide are finding micro hospitals with embedded ambulatory services a better fit for the patient demand and preferences found in these smaller, geographically dispersed communities. These all-inclusive yet scaled centers provide patients with co-located services in accessible locations as well as provide consistency of brand and staff. Systems are able to maximize the efficiency of similar service lines, overlapping staff skills and common patient needs.
The Advisory Board Company's menu of ambulatory care models is expansive, but it is still incomplete. We have seen a progression in care delivery with the growth of ambulatory care and its continued evolutions and iterations—the micro hospital, for example, is one of the newest reactions to market drivers and patient preferences.
While neither designers nor healthcare systems has a crystal ball to determine how the demand for a non-urgent, consumer-driven care delivery model will manifest in building or function, the Advisory Board's invaluable insights show that the need for ambulatory services persists. Our own experience and the reflections of our clients, collaborators, and local healthcare systems support these findings. The challenge will be creating a new, more flexible care delivery model in an environment that is highly susceptible to shifts in the market, legislation and patient population.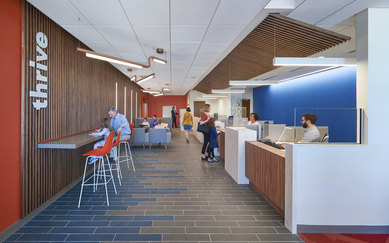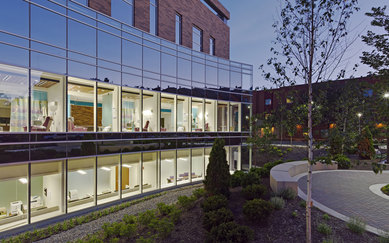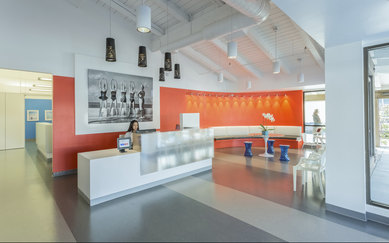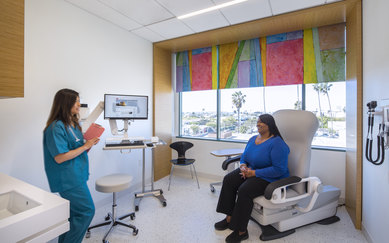 The SmithGroup Health practice is continually innovating based on the ever-changing trends in the healthcare industry. While we focus on how these trends manifest in the built environment, we also study what is driving the healthcare marketplace, our clients' decisions and, ultimately, how these challenges affect the patients we all serve.