From Recovery to Resiliency: Part 2 - Integrating Fitness and Wellness on Campus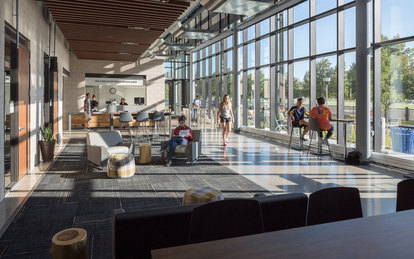 In part one of this series, "Campus Recreation Responds to COVID-19," we recapped the key takeaways from a conversation with campus recreation leaders and wellness strategists from across the country following the outbreak of the COVID-19 pandemic. In addition to tactics for immediate action, the discussion identified a critical question: How do we create recreation and wellness environments that are more responsive and resilient for the long-term?
In this post we will explore the first of three areas of focus that came out of our conversation:
A.       New Models for Integrated Fitness and Wellness Programming
B.        Leveraging Campus and Community Partnerships
C.        Seamless Technology to Build Spatial Resiliency
The closure of college and university campuses across the country has compounded stressors that were affecting an already struggling student population. Prior to stay-home orders, students were already grappling with the increasingly intense pressures of college life—heightened academic expectations, relationship pressures and a wide spectrum of challenges impacting their physical and mental well-being. According to a 2019 survey report by the American College Health Association (ACHA), more than 45% of students have felt "so depressed" at least once within a single school year that it was "difficult to function."   
Add to this a global pandemic and reduced access to campus resources, and these pressures have only increased. In fact, according to a September 2020 student mental health survey by Active Minds, nearly 75% of college students reported that the current health crisis has negatively impacted their mental health.
This is due in part to obvious social challenges, such as missing out on the in-person relationships and events that contribute to the campus life experience. But many students are also struggling with financial and security concerns such as income loss and being required to move out of their campus housing—which for many may be their only safe living environment.
In this new atmosphere, there is increasing interest in expanding the role of campus recreation and wellness opportunities to help students bridge personal crises with a renewed focus on building holistic well-being. While their foundation will likely remain in physical activity, campus recreation departments are pivoting to provide students access to a wider range of resources that also address social, financial and emotional well-being. These holistic wellness programs help normalize and destigmatize the various challenges that students are facing and support life-long success.
We expect the recreation center will be reimagined with traditional fitness studios and classrooms evolving to accommodate the breadth of services needed for holistic student support. During the COVID-19 pandemic, we have seen fitness studios converted from providing in-person, traditional drop-in fitness experiences to new technology-equipped spaces that can help campus recreation departments produce live-streamed virtual fitness and pre-recorded digital fitness content that can be delivered through a variety of platforms.
As student needs continue to evolve, we expect to see the need for increased adaptability. Agile campus recreation and wellness departments will require recreation spaces that can dynamically transform to ensure long-term resiliency.
For example, imagine a space within the recreation and wellness center that can physically adapt throughout the week or even a day. With enough flexibility, the same space could accommodate small group training, a recording capture/stream studio or even a cooking demonstration over the course of a single day. Campus recreation departments can look to transform underutilized space and meet student challenges with dynamic, evolving spaces and support mechanisms that do not currently exist on their campus. 
With the intense emotional pressures facing today's learners, it is critical that recreation centers be reimagined to serve the whole student. By coordinating resources for physical health and mental well-being while also focusing on resiliency, recreation centers can be transformed into hubs that provide each student the skills and support they need to manage current and future crises and build a healthy lifestyle.
The next post in this series, "Leveraging Campus and Community Partnerships," will address the potential for strategic cross-campus and community partnerships to build more resilience into campus recreation.