Rethinking Public Space With Empathy: Returning Downtown During & After COVID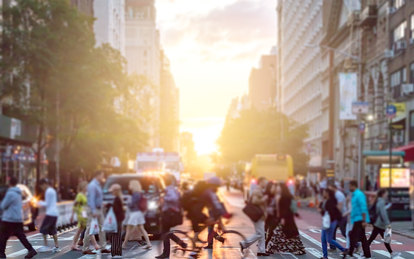 As stay-at-home orders are lifted and U.S. cities adopt significantly different approaches to reopening their downtowns, the importance of public health and personal space in our everyday lives has been elevated to the utmost priority. Pre-COVID-19, crossing crowded downtown streets and navigating busy sidewalks was simply part of the urban experience. In fact, many would characterize this hustle and bustle as energizing.  
We currently find ourselves at a critical turning point in our response to managing the virus, experiencing physical distancing in nearly all aspects of our lives. Collectively, we are grappling with a myriad of physical, social, economic, and environmental issues. This shared vulnerability has also brought greater awareness that our downtown spaces are not always fully inclusive. Race, ethnicity, age, sex, gender identity, as well as disability and access to transportation options impact our experiences within the public realm.
And now, many have avoided busy urban areas as a way of protecting their health and the health of those closest to them. But with rising impacts to our small businesses and local economies and the growth in new coronavirus cases slowing in some states while rising in others, the need for an equitable path forward is critical. Perhaps reopening our businesses in an adapted context and rethinking the traditional public realm experience may serve as critical change agents for bringing about the essential community connectivity and open dialogue we all so desperately need.  
So much has transpired in 2020, but one thing has not changed; our innate desire to gather. Our urban areas serve a vital role in our communal identity, providing a place to come together, to celebrate, exchange ideas, and protest injustices. We're in a unique moment in time; a moment of self-reflection, an opportunity to examine traditional strategies and strive for more inclusive process that embraces diverse perspectives while amplifying their voices.
Rethinking the public realm in the wake of COVID-19 is the first step in a larger conversation about how we reconsider public space design,  the importance of inclusive design processes, and how we advance an entirely new public social contract. 
Defining the Problem
People are intrinsically social and have an instinctual longing for emotional interaction and engagement. As we adapt to life with COVID-19, how might our downtowns and urban commercial districts be reimagined to allow for equitable and safe opportunities to support our communities while also providing essential connections between people and places?
Cities across the nation and the globe are currently working on various phases of reopening, including specific strategies to ensure safe physical distancing of 6 feet or more between individuals. In open areas with plenty of space, this is not difficult to achieve. However, in urban areas where the pedestrian realm has a finite width, even with a partial or full street closure, adequate space to maintain CDC guidelines can be compromised.
Bustling city streets, where people come to shop, to dine, and to simply interact with the world are an integral part of our health and mental wellbeing. Likewise, our shops, restaurants and essential businesses are dependent on us for their survival.
Unlike a fire, flood, earthquake, tornado, or hurricane, COVID-19 has prevented us from coming together physically in response to its aftermath. A keen sense of urgency is propelling the need for adaptability moving forward; champions, innovators and organizers are emerging to provide flexible engagement tools as an alternative to the traditional means of public charettes and open houses in order to gauge diverse input and feedback. Every community needs to find a pace that's right for them and their constituents, but only a thoughtful, inclusive process will contribute towards building enduring trust and public support. While the solutions offered today may be temporary, once in place they may have staying power. The lessons we learn today may underscore future needs for a more resilient and inclusive framework of public streets and spaces, paving the way for an enhanced quality of life while ensuring small business sustainability and success.
Inclusive and equitable engagement is critical, but COVID-19 has only amplified traditional barriers. This includes an intensified digital divide, additional burdens on essential workers, and the virus' disproportionate impacts on Black, Latinx, Indigenous and older communities.
Actively listening to local residents, businesses, and workers to meet them where they are will help to formulate sensitive strategies tailored for each community's unique needs. For instance, Chicago has adopted an intentionally slower, more locally driven response to the call for shared and open streets to ensure community needs and priorities are met. Pilot programs such as their new 'Extended Outdoor Dining' permit along 26th Street's Little Village have experimented with street closures through a trial and error process which has led to a better understanding of what each neighborhood truly needs to sustain themselves.
Broadening Local Input and Perspectives
In addition to federal and state guidelines for reopening, many local voices and perspectives are absolutely essential for the safe, sustainable reopening of our downtowns and urban public realm.  These include:
Community Members: Each diverse voice within the community matters, particularly historically underrepresented Black and Latinx voices. While the phrase "live, work, play" has become something of an overused tagline, it really does encapsulate the full spectrum of what our downtowns and commercial corridors mean. For some, reopening these areas means a daily reliance on public transportation in order to safely return to essential jobs while for others, it's largely about recreation and entertainment. 
Some are eager to return to these commercial districts but many are justifiably hesitant. A recent New York Times article captures the stark disparity that may have significant impact on personal levels of comfort in urban areas: "Latino and African-American residents of the United States have been three times as likely to become infected as their white neighbors." They are also four to five times more likely to be hospitalized due to COVID-19. The far-reaching impacts of COVID-19 have unveiled larger systemic issues of equity within our communities, prompting a critical examination of personal levels of comfort and safety. Likewise, an examination of how interconnected systems, groups, leaders, and residents comprise and define a larger community has become imperative as ever-present injustices and inequities surface through this pandemic.

Inequities within urban streets and public spaces can have a ripple effect within their communities, while insensitive changes can adversely impact residents and essential workers. As Alissa Walker framed it in her recent article: "The conversation about how many miles of streets each city has opened has dominated the transportation discourse like some kind of competition to see which city can win—instead of a nuanced discussion of what people who rely on those streets really need. . . It's not to say that U.S. cities shouldn't do these things, or that their residents won't benefit from some of these changes, but as these decisions are made within the context of this crisis—sometimes very quickly, with little outreach—they are likely being made without the input of people most directly affected by the pandemic."
Elected Officials: Elected officials are seeing the statistics, hearing from small business owners, and are feeling the pressure to reopen as quickly as possible. Strategies for reopening safely can be dependent upon elected leaders to provide support for their implementation. While many associate tactical urbanism with a community-guerilla approach to adapting the public realm, elected officials play a critical role in advocating for pop-up projects, including temporary street closures and installation of parklets that provide safe and creative options for reopening. This also means actively listening and adjusting course when a program is not serving the needs of the community.
Local Leaders:  City managers and department leaders have been on the front lines of the crisis response, leading communication efforts and supporting small businesses. They are in the difficult position of balancing user needs and public expectations. The debate between outdoor dining or "amenity zones" and on-street parking is not new, but it has been amplified. The City of Oakland, California's policy director of mobility and interagency relations, Wallace Logan, reflects on the need to retool the city's Slow Streets program to "advance equity by including the voices of community." These local leaders will also play a crucial role deciding what happens to the physical environment when this crisis subsides and physical distancing is no longer as imperative.
Event Organizers: Often times events and fundraisers play a large role in how communities and local economies sustain themselves. As Ally Brisbin (Chicago 48th Ward Assistant to the Alderman) puts it, "Chicagoans love to gather at street festivals and block clubs. It's part of the DNA of our city and our neighborhoods. Street festivals, aside from providing an opportunity for entertainment, delicious food and celebration of a neighborhood, also often serve as important fundraisers for community organizations like Chambers of Commerce. I worry about how the loss of festival revenue will impact the budgets and operations of these organizations and their ability to support local businesses and residents." With so many events being cancelled or postponed, these groups are thinking creatively about alternative events this summer. Neighborhoods like Andersonville in Chicago have turned to social media as a means of communication for drumming up local enthusiasm to support modified events like "Andersonville at Home: A Midsommarfest Experience & Fundraiser" within their communities.
Police and Law Enforcement: When it comes to reopening, police, code enforcers and county health inspectors need to have clear direction and resources to equitably enforce state and local mandates proportionally in all communities. Enforcement of physical distancing is but a small piece of a larger social contract related to safety within the public realm. Police and law enforcement input is essential to addressing complex enforcement issues related to mask requirements, changes to curbside management, and the reopening of outdoor dining and patio areas.
Municipal Departments and Downtown Contractors: Local Departments of Public Works are being tasked with modifying trash collection strategies on reconfigured streets, marking physical distancing spacing on paving, and installing barriers to extend sidewalk areas or reroute traffic. A comprehensive reopening strategy should incorporate the needs and insights of these essential maintenance workers.
Property and Business Owners: Businesses are eager to reopen their doors and occupy more of the public realm in order to safely serve their customers. Great ideas and pilots for how to do this are emerging, like this Michigan Main Street Guide for small business owners or the U.S. Chamber's guide to reopening. According to an article published in the Chicago Sun-Times, number of corporations and non-profits are also stepping up to offer grant programs targeted at minority-owned and women-owned small businesses many of whom are worried they won't be able to "withstand another wave of economic uncertainty during the pandemic, following decades of inequity that made it hard for many to flourish in the first place."
Community Artists: Over the past several months we've watched as streets and public spaces have fostered opportunities for public participation and creative expression in many forms -- from mass community protests of racial injustices to the utilization of art as a means of bringing people together to speak out for Black lives or Indigenous peoples. Reclaiming the public realm for the community can also mean the artistic portrayal of an idea, thought or relevant issue. Likewise, we're witnessing a surge in the removal of Confederate monuments and other statues across the country that no longer represent community values. These efforts serve to reclaim space for the people they represent and seek to transform the narrative of history within our country. Tactical public art, whether by addition or subtraction within the public realm, displays a personal or collective perspective, speaks to people's hearts, and opens eyes to lessons learned while revealing future opportunities to make a difference.
Adapting our Urban Realm with Empathy
During COVID-19,  the need for responsive and creative solutions to sustain our local communities and economies has become more apparent than ever. But how might tactical solutions have a lasting impact on our urban spaces? How does our physical response to COVID-19 reshape urban space in ways that remain socially and emotionally connected? How do the decisions we collectively make today move us toward a more resilient and inclusive urban public realm?
"If you want to be a real community organizer, ask yourself these 15 words: What's something simple that I can do that'll have a positive impact on my block?" -- Jahmal Cole, My Block, My Hood, My City
Our downtowns and urban commercial districts will continue to matter to us socially, culturally and economically throughout this pandemic and beyond. With many perspectives to be heard and much to consider, the empathetic way we approach the problem might likely hold the key to the most creative and innovative solutions. How we personally step up to the challenge to seek positive change individually may impact how we collectively invest in our downtowns and urban areas together during this crisis. Bringing people and their local economies back together smartly and safely serves to reinforce the value of comfortable, flexible and equitable urban public realm space meant to serve the very people it represents.
This is not about returning to normal. This is about adapting our downtowns and public spaces to become more resilient and more inclusive. We are rethinking, rebuilding and reconnecting more than just the physical public realm.
Part two of this series will focus on thoughtful, tactical and empathetic approaches to reconfiguring public space aimed at rejuvenating local small businesses and enlivening communities.