Navigating Disruption: Adapting Technology in an Unpredictable Environment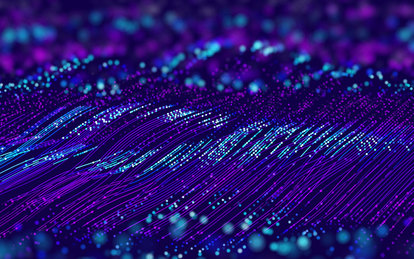 As we progress deeper into 2021, we reflect on how 2020 has changed our perspective on various possibilities. SmithGroup's grit and resiliency has been tested every day. The hope for 2021 and beyond is that we learn from our past experiences to become stronger, more adaptable and innovative. In this piece we explore how a group of designers and engineers at SmithGroup, during a time of disruption, created an opportunity to adapt technology in some unexpected and unique ways. 
When the 2020 COVID-19 pandemic began in the United States, SmithGroup quickly changed the way it worked to adapt to a new type of work environment.  One of the biggest outcomes from this was the creation and acquisition of new tools or the reinvention of existing ones to tackle arising challenges and find new opportunities. As we continued to adapt, we asked ourselves how we could carry the momentum forward to stay at the leading edge of architectural and engineering innovations and offer our clients and, ultimately, the end-users the best service they envision.
The answer to this question started just some time before the pandemic started. In 2019, I partnered with fellow SmithGroup fire protection and life safety engineer Kyle Lehman, and Washington, DC Cultural Studio Leader Chris Wood, to explore other uses of our existing software PathFinder and FlexSim Healthcare, commonly used to model building evacuation and processing time through healthcare facilities. This led to a journey of discovery, forging new paths, and building a foundation that not only changes the way we work as a firm, but creates innovative solutions for our client.  
REDISCOVERING CAPABLITIES
The first step was exploring and comparing the software pros and cons, leading us to create an example that showcased PathFinder's capabilities to simulate occupants moving through buildings with various complex behaviors and highlighted where such models could be used to optimize the occupants' interaction with building features. After our exploration ended, we were excited for the possibility to use our familiar tool to approach new problems. However, little did we know, we would be looking at the same tool for a completely different application a few months later. In April of 2020, Thunderhead Engineering, PathFinder's developer, added new capabilities to quantify occupants' physical separation.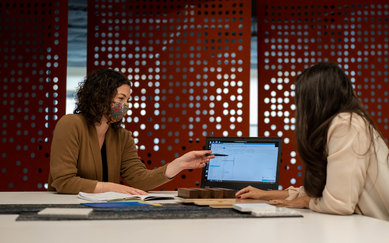 Simultaneously with this effort, Leland Curtis, a leader from our computational design group, developed DISTO, a tool that quickly evaluates numerous design configurations and optimizes spatial usages within existing and new buildings. By coupling PathFinder's new capabilities and DISTO, SmithGroup could evaluate, and perhaps more importantly, visually present the most optimum design to minimize occupants' interaction.
CREATING A PATH FORWARD
I soon began to discover that our work with Pathfinder and DISTO was not an isolated occurrence. I started to learn about other stories of success, which led me to believe that we as designers can bring innovation to the tools that we already use. The most noticeable themes were reimagination of the intended purpose of technology, reiterative evaluation, and application to new challenges. In some cases, SmithGroup engineers and architects partnered with the software developers to tailor the tools for specific applications; in others, simple yet innovative tools were created in-house. We demonstrated that our experience enabled us to navigate the new applications and demonstrate to those with lesser exposure such as clients and the authorities having jurisdiction.
To continue developing our toolboxes, I believe active participation in user forums and training is a must. In the past, attending software training or technical conferences were not an insignificant corporate expense. Fortunately, because of the working-from-home months, many if not all technical training seminars and technical conferences have become virtual and, therefore, more affordable.
BUILDING A FOUNDATION
Having the foresight and adapting the technology is just one step. The crucial part comes in understanding how we can sustain these initiatives so that we are continuously seeking new ways to innovate, adapt and advance our mission as designers. While building a foundation is a step that we as a firm are currently working on, we have begun to identify the appropriate steps to ensure that this type of innovation continues thrive. One of the first steps is finding ways to form core groups within SmithGroup that facilitate continuing knowledge transfer and exchange within the firm. Many of these groups already exist and consist of experienced users; however, a challenge that I am now working to solve is how to communicate these concepts and initiatives to the entire firm so that new users, or someone with interest, can easily find information, as they can join our teams and contribute.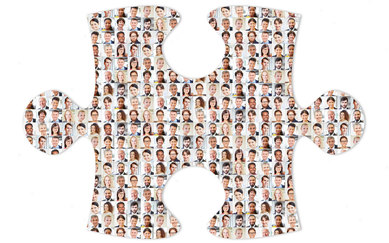 For instance, the uses of computational fluid dynamics software are common these days in the field of fire protection engineering, mechanical engineering, energy modeling engineering, and even urban/landscape architecture for pedestrian comfort. The practice within these disciplines could be complementary to each other and help fill in the blank in project scopes, as not all projects have all the key players onboard straight from the beginning.
As a firm, we have made great strides in reimagining how we can adapt tools to reflect the needs of designers, engineers and clients. However, we are only in the beginning stages with a lot more work to do. Therefore, as I close, I would like to bring up a couple of topics that may require additional exploration and discussion. Engineering and architectural software packages may have many similarities and differences; each offers such a unique set of pros and cons; and they sometimes converge to solve common issues (e.g., social distance planning for crowd movement and behavior modeling software) then diverge to continue serve their intended user groups.
For example, in the field of fire protection engineering, we have options to use several software to simulate crowd movements and behaviors (PathFinder, MassMotion, FDSEvac, etc.) and simulate fire development and exposure as well as to design fire protection systems (Fire Dynamic Simulator (FDS), FireFoam, CFAST, CONTAM, etc.). Generally, it does take a user who has had extensive experience with each of them to decide which software to use in each project or even a specific scenario. Therefore, as a company, we must constantly evaluate our existing tools for potential improvement and even replacement. To complicate the problem, effective adoption of new tools may require additional training or targeted technical hires. As the core groups form and converse, I encourage them to discuss the existing tools, their strengths and weaknesses, their alternatives, etc., and identify the next steps to further enhance our capabilities as engineers and architects.