Where Will Higher Education Campuses Invest Post-Pandemic?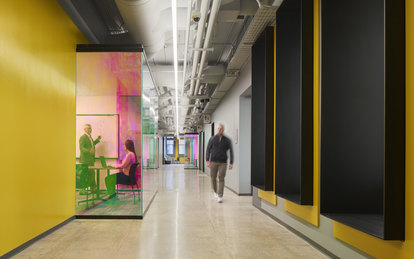 As campuses adjust to the impacts of COVID-19, representatives from various higher education institutions recently met with us to share where they will focus their investments in order to thrive in this new era. With regards to space, SmithGroup's Higher Education leadership team asked, "How can existing campus assets be repurposed or repositioned to address emerging needs such as Justice, Equity, Diversity and Inclusion (J.E.D.I.) or the rise of the experiential campus post-COVID?" The following three quotes from the conversation capture the top themes driving campuses' new investment strategies in our post-pandemic world.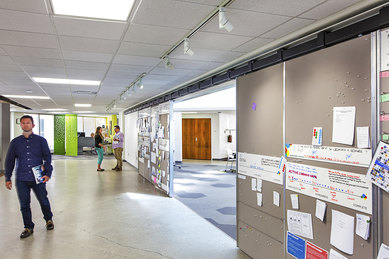 What we heard:  
We understand the impacts of the pandemic will continue to be felt for years, but there is an opportunity to begin assessing space use and recovery now.  
Additional panel commentary: It will likely be two years (2023) to have a full understanding of space changing demands. At present, institutions need a "real-time" dashboard of space use.  
Ideas about how planning and design can help:  
Comprehensively modeled instructional space and course schedules allow for exploration of utilization impacts driven by changes in course delivery. For example, continued migration of large format lectures to online platforms frees inventory for conversion to experiential learning, multiplying the benefit of face-to-face teaching.  
Implementing durable work from home models will be possible for large segments of their administrative staff. This shift provides touch-down and engagement space for on-campus use by these workers, but a significant portion of administrative space will be repurposed for mission-driven uses.   
Revisiting space management systems and policies to offer greater flexibility. Pre-pandemic space allocation may not reflect future priorities or operational approaches. The opportunity to develop new space standards and processes for capital project decision-making enables institutions to better reflect their envisioned future.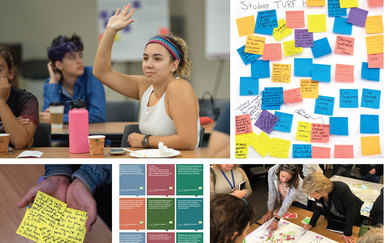 What we heard:  
The events of 2020 demonstrated the urgency of dismantling repressive social structures, including those embodied in our buildings, campuses, and cities. This has moved up to a top priority for campuses.  
The recent directive from the President of Carnegie Mellon University to implement 24 J.E.D.I. goals ahead of all others – this is powerful testimony to the importance of change.
Ideas about how planning and design can help:  
Developing engagement strategies to promote the perspectives of historically marginalized groups.  
Acknowledging that we all perceive space differently, and that our abilities, experiences, and culture shape our interpretation of the built environment. We must also recognize that space is not neutral—it is politicized and racialized and can readily convey signals of power and exclusion.  
In collaboration with Amara Pérez, PhD, and student-researcher Christina Avila, we recently explored the issue of the inclusive campus at SXSW EDU. As Dr. Pérez pointed out, the experiences of underrepresented students, faculty and staff are a counter-narrative to the dominant narrative of white supremacy.  
Diverse voices need to be heard throughout the planning and design process. Consistent integration of students as key stakeholders in the conception of new facilities influences outcomes across the full range of uses, from social space to research labs.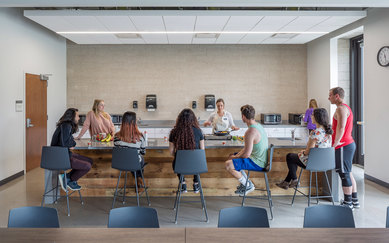 What we heard:  
The pandemic has highlighted increasing needs from within communities where higher education institutions are located. In turn, campuses are forming partnerships to reconsider how physical space on campus (natural and built) can be an asset to the surrounding communities. 
Ideas about how planning and design can help:  
Comprehensive planning can intentionally build bridges outside campus limits to understand the unique needs of the surrounding community and explore how campus assets can align to address them.  
California State University, Chico has focused on water, a significant and highly valuable asset, and has partnered with the City of Chico as the campus plans investments along the creek that runs through campus.    
Community partnerships are re-defining a new version of "third space" that focus on well-being and prevention. These places create intersections of students in the health professions, patients and health care practitioners and can exist on or off campus.  For example, University of California, Davis formed a partnership with the City of Davis amid the pandemic to help improve community health.  
Our work across for schools of health sciences increasingly focuses on embedded  flexible, accessible "third" spaces for community outreach, prevention and in some cases, primary  care.  The Community Engagement Center at the recently opened University of North Carolina Greensboro Nursing Instructional Building is an excellent example of this. 
We greatly value the opportunity to have these conversations with institutions that are on the forefront of change in higher education. The insights gained inform our work on a daily basis. They also increase our ability to innovate—both in terms of design solutions as well as in our engagement approach. This is just the beginning of the discussion; we welcome the chance to hear different perspectives and to learn from beta test solutions to these challenges. 
Participating PANELISTS
Bob Broyden, Assoc. VP, Campus Planning and Capital Finance, Virginia Tech
Ann Sherman, VP for Business and Finance, California State University, Chico
Keith Fordsman, Capital Program Director, Yale University
Ralph Horgan, Assoc. VP, Campus Design and Facility Development, Carnegie Mellon University
Jeremy Munn, Program Director for Facilities, Design and Construction, Northeastern University
Adam D. Thies, Assoc. VP, Capital Planning, Indiana University