The Voice of Interns: Revisiting the SmithGroup Experience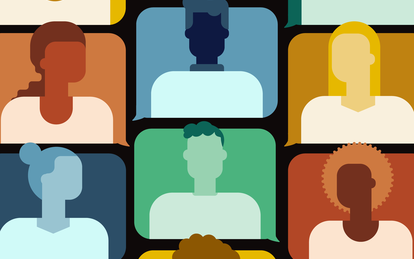 Our firm's robust internship program is all about cultivating future design leaders to help them make an impact in their work and the communities they serve. With every new class of interns, we not only help teach and guide them, but we use it as an opportunity to learn things from their perspective and experience. When we have interns who choose to come back or extend their internship experience at SmithGroup, it's always fascinating to hear how they have applied what they learned with us and why they decided to return to our firm for more.
We asked two of our returning interns to tell their story and their experiences at SmithGroup: Miguel Jimenez is pursuing a dual Master's in Architecture and City & Regional Planning at Georgia Tech; and Megan Campbell is pursuing a Master of Science in Architecture, Engineering & Construction Management at Carnegie Mellon University. Read what they have to say about their experience at SmithGroup and why they chose to continue their career with us.
GAINING NEW PROFESSIONAL SKILLS THROUGH AN INTERDISCIPLINARY APPROACH
Miguel Jimenez: As an aspiring urban designer my goal is to find a place where I can design architecture, urban planning, and landscape architecture projects. I have returned to SmithGroup because it's an integrated design firm that gives me the chance to branch out and get myself involved in projects that deal with these disciplines. In a single day I can work on concepts for urban housing, corridor mobility or park design, all which are very interesting to me, which would have been different if I interned at an architecture-only or planning-only firm.
Megan Campbell: SmithGroup's range of specialties and work in a wide array of building sectors allows for a well-rounded internship experience. It has allowed me to learn not only about my discipline, but also exposed me to all the other services the firm offers. Through SmithGroup's collaborative culture and dedication to the internship program, I feel it offers the best opportunity for me to learn more about the AEC industry.
REFLECTING ON THEIR PAST EXPERIENCE
Campbell: One thing that surprised me during my previous internship was the wide array of projects that SmithGroup works on. SmithGroup being an integrated design firm, allows for a diverse array of projects that you can potentially work on. These projects allow for a deeper understanding of the mechanics and lifecycle of a building, enhance your skillset within the profession, and help you to make more well-rounded knowledgeable decisions.
Jimenez: Working with SmithGroup was very meaningful because all the work I did felt appreciated. My supervisors and colleagues tried to give me tasks that I found especially interesting, and they provided feedback that was always constructive. I never felt like just an intern, but rather as a member of the SmithGroup design staff because people asked me for advice and were open to talking to me about projects and tasks. Most of those tasks also had important parts to play in reports, engagement activities and city plans, so I always considered myself part of the team that made these important things happen.
Campbell: One word that I would use to summarize my previous intern experience would be explorative. Throughout my time at SmithGroup I learned so much about planning, architecture, engineering, and construction on real-world projects through hands-on experience. I have worked on many projects that allowed me to explore new technologies, ideas, concepts and skills which carried through to my educational studies as well.
EXPERIENCING SMITHGROUP'S CULTURE
Jimenez: The culture is very flexible and understanding of employees' circumstances. I was working remotely last summer and through the school year, and everyone from HR to my actual colleagues and supervisors were always understanding of my academic and personal responsibilities, allowing me to be flexible when working on tasks and with others. I know many other people at SmithGroup who have similar or equivalent responsibilities and circumstances, and the firm has always been flexible and understanding of those conditions too.
Campbell: My internship with SmithGroup began as a co-op during my first fall semester of graduate school. Throughout my co-op experience SmithGroup always prioritized my studies and understood when I had to take breaks from work so that I could focus and do well in school. SmithGroup values and prioritizes their employees, they want us to continue learning and growing.
ADVICE TO FUTURE INTERNS
Campbell: My advice to potential interns would be to work and collaborate on as many projects as you can while at SmithGroup. It allows you to learn the entire process from start to finish and how each project is unique. You are bound to learn something new! Also, ask questions. I know this is a typical answer but everyone at SmithGroup wants to see you learn, grow and succeed in your profession.
Jimenez: Always try to get to know the people who work on projects that involve a discipline different than yours. SmithGroup has architects, landscape architects, engineers, planners, and many other disciplines that you can learn a lot from and that can guide you to develop your own design thinking skills. Also share your interests and goals with your mentors and supervisors because many times they will help you follow those interests and meet those goals through different projects. While what you learn in school and what you end up doing in the AEC firm may be different, do not forget that they complement each other. Both are integral in the development of your design thinking and philosophy, and while it sometimes seems that they do not relate to each other, the truth is that every day you are putting into practice what you learned at school but also doing real-world projects.