Argonne National Laboratory Advanced Protein Characterization Facility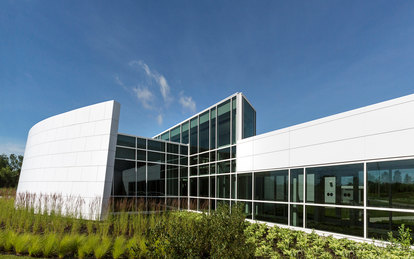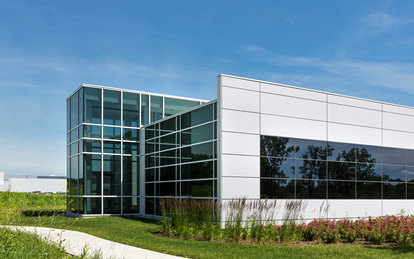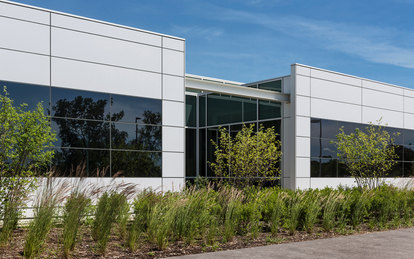 The Advanced Protein Characterization Facility has transformed the Argonne National Laboratory by adding a new world-class research center that completes the campus and maximizes efficiency.
Client
Argonne National Laboratory
Location
Lemont, Illinois
Markets/Services
Architecture, Government, Government Research, Interiors, Lab Planning, Science & Technology
Size
6,000 SF
The researchers and scientists at the Argonne National Laboratory in suburban Chicago are working around the clock to unlock the building blocks of life—proteins. To further focus its efforts on understanding protein science, the laboratory needed a new facility that would not only serve as a collaborative space, but one that would be as advanced as the research that is conducted at Argonne.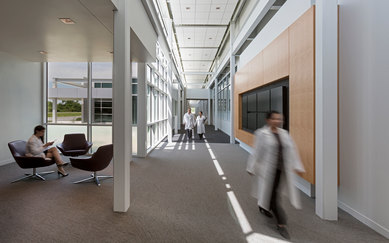 The new 60,000-square-foot Advanced Protein Characterization Facility (APCF) provides researchers with the most advanced environment for protein science experiments in the nation. Utilizing state-of-the-art efficiency features and standards, Smithgroup architects worked together with the Department of Energy and Argonne National Laboratory to reduce the facility's total energy use by 30% and obtain LEED Gold certification, helping to set a new standard for advanced research laboratories.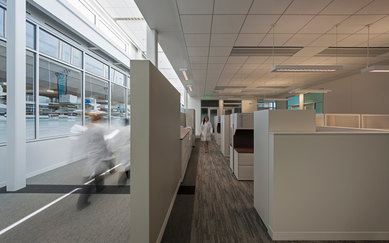 As a physical connection portal to the Advanced Photon Source (APS) Experimental Hall, as well as a programmatic extension of protein crystallization research, the APCF provides additional space and supports both structural genomics and systems biology as the two main programs. In addition to the labs there are collaboration spaces, open and closed offices, elements for outdoor gathering and administration, all to support the building, staff and Argonne National Lab campus.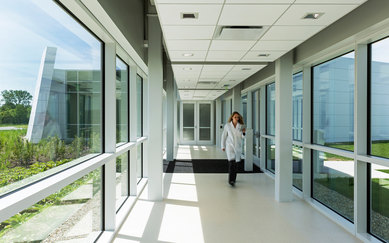 With an army of scientists performing some of the most groundbreaking research in the world of science, the new Advanced Protein Characterization Facility has transformed the campus through high design while allowing Argonne to maximize efficiency.