Auburn University - Brown-Kopel Engineering Student Achievement Center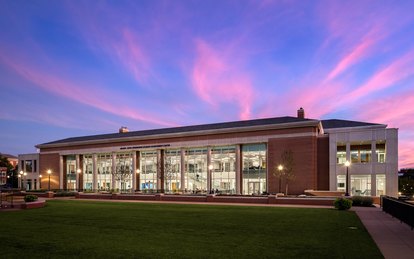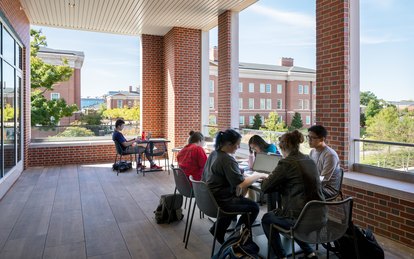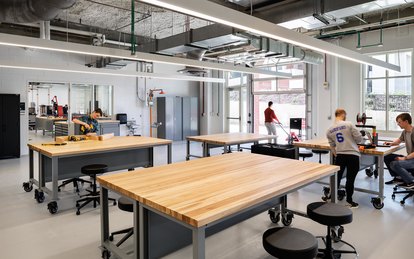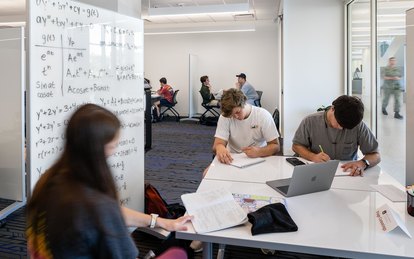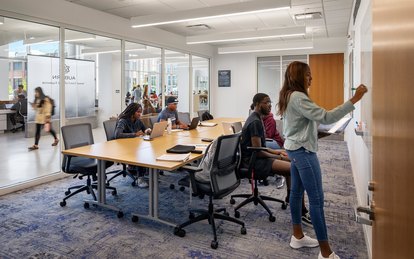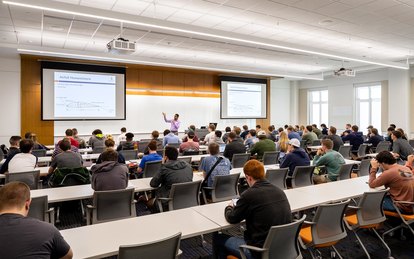 Creating a comprehensive home base for Auburn's acclaimed engineering programs, this center is particularly notable for its emphasis on student-driven active learning.
Markets/Services
Architecture, Fire Protection and Life Safety Engineering, Higher Education, Interiors, LEED, Lighting Design, MEP Engineering, Programming, STEM (Science, Technology, Engineering, Math), Student Life, Sustainable Design
Auburn University has become well-known for excellence in its multiple engineering programs. As the Samuel Ginn College of Engineering has grown, its programs have expanded across more than10 buildings on campus. Thanks to a generous donation, the University began planning for a center that could serve as a unifying gathering place for Auburn's engineering students, providing academic support, career development services and hands-on, active learning experiences. 
The Brown-Kopel Engineering Student Achievement Center gives the engineering student body access to several facilities and services beyond the traditional classroom, advancing a vision the dean described as "the most student-centric undergraduate engineering experience in America." Its fabrication labs, maker spaces and project incubators represent one of the most comprehensive, active-learning environments in the country.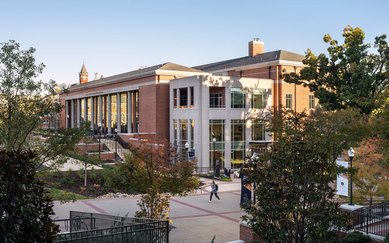 The building's siting also creates new exterior spaces, completing a quad in the middle of the main engineering buildings on campus appropriate for hosting events and a workshop area for student engineering projects.
The main entrance is centered on an expansive north-facing glass curtain wall, accented by a 160-foot-long stone colonnade, and flanked by precast pavilions at each corner. Inside and out, the building provides a diversity of needed spaces identified in the team's programming analysis. The entry opens into the Grand Atrium, a double-height space that is the building's living room, with a variety of seating areas infused with natural light.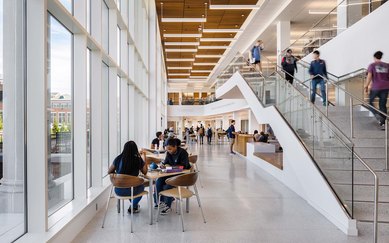 The high degree of transparency makes the building very inviting – encouraging inclusivity and enabling diverse groups of students to feel at home.  Glass-walled study rooms off the atrium provide bright, flexible workspaces. The top level consists of two 100-person classrooms and 6,700 square feet of event space, divisible into three rooms.  This variety of spaces also offer settings where students can meet with industry representatives and entrepreneurs for mentoring and project critiques.
On the south-facing ground floor, a suite of maker spaces—including a wood shop, electric shop, machine shop, welding booth, 3D printing lab and wet labs—enable students to create, build and test their ideas as they explore engineering principles and apply what they have learned in their courses. These specialty shops surround the 7,000-square-foot main room, which features work benches that can be repositioned as projects that student teams require. Four garage doors open to a canopy-covered exterior space where students can work on large-scale projects and maneuver heavy equipment. An aerospace lab and wind tunnel are isolated below grade, capped with a green roof that serves as the outdoor quad greenspace.