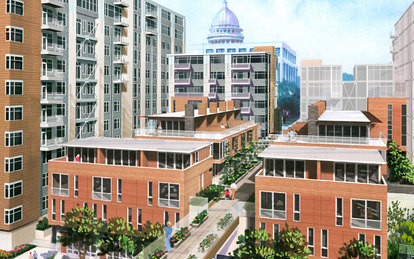 Abandoned and under-used buildings are abundant in many downtown areas. Luckily, they provide an opportunity to re-invent or reinvigorate city blocks, and often catalyze creative solutions that would not have been born had a site footprint not already existed. This site and its unique place between two very different parts of downtown demonstrates the influence that a pre-existing development can have on design decisions.
Client
Alexander Company and LodgeWorks
Location
Madison, Wisconsin
Markets/Services
Landscape Architecture, Mixed-Use, Residential, Urban Design, Urban Planning
Size
2.2 acres
An abandoned hospital campus took up an entire city block in downtown Madison, Wisconsin. The heart of the city was just blocks away — thriving, pulsing — while the 300 block of West Washington Avenue sat tired and underused.
Alexander Company, a planning company with a national reputation for creative urban land use, saw the site's potential: a mixed-use urban development with myriad modern homes, storefronts, and an upscale hotel.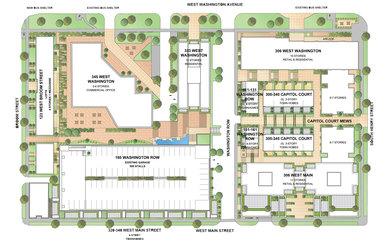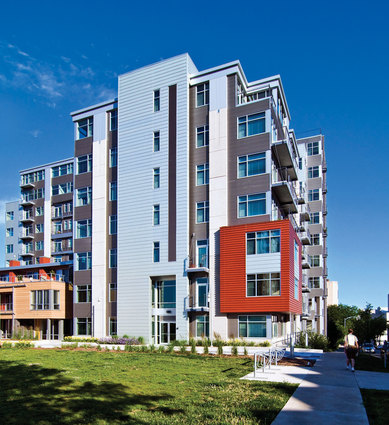 Our team ushered the project through the city and neighborhood approval process. Part of that responsibility was acknowledging the influence of this site, which would not only be a destination but would serve as a connector between the two disparate development types. Street and pedestrian engagement was critical for this objective, and the design included neighborhood bicycle and pedestrian links, and sustainable site design and landscaping.
Capitol West — a central haven for different types of businesses, homes, and densities — now reflects the very city it calls home.