Cranbrook Academy Art Museum + Collections Building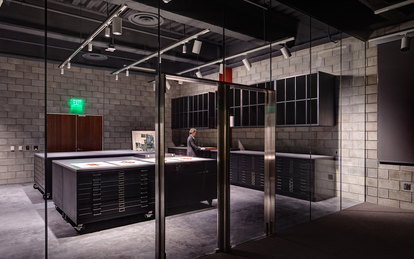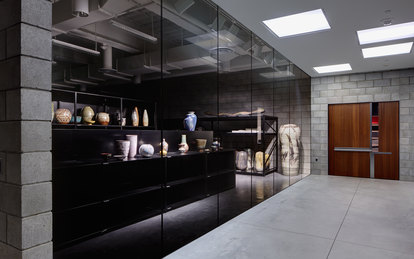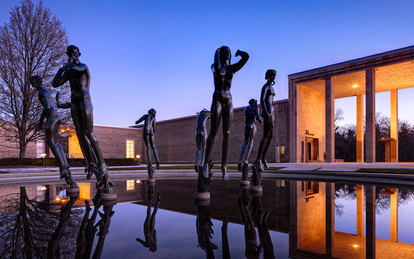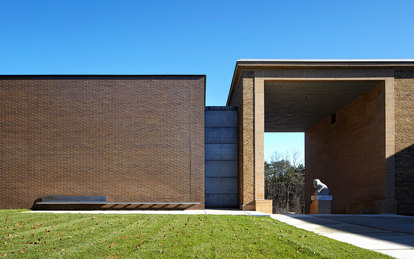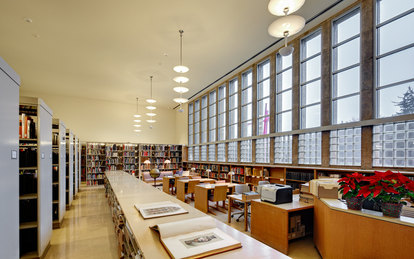 Creative problem solving. Outside-the-box thinking. These tropes rightly apply when discussing this project. We created an experience for those entering the new collections space, an experience for learning, an experience for viewing art and an architectural experience while observing the original masterpiece in the context of its contemporary addition.
Client
Cranbrook Academy of Art & Art Museum
Location
Bloomfield, Michigan
Markets/Services
Architecture, Archives & Collections Care, Arts Education, Building Enclosure Consulting, Cultural, Higher Education, Historic Preservation, Interiors, Lighting Design, Museums & Galleries, Programming
Size
88,000 SF
Featured Awards
Honor Award - Building, AIA Michigan, 2014
Honor Award – Building, American Institute of Architects (AIA),  Detroit Chapter, 2012
39th Annual Interior Design Competition, International Interior Design Association (IIDA), 2012
M Award for Excellence in Masonry Design, Masonry Institute of Michigan (MIM), 2012
Interior Lighting Design, Illuminating Engineering Society of North America (IESNA), Regional, 2012
Illuminating Engineering Society (IES) -- Illumination Award of Merit, 2012 
Light & Architecture Design Award, Architectural Lighting Magazine, 2012
Brick in Architecture Gold Award – Commercial Category, Brick Industry Association (BIA), 2012
Award of Merit, ENR Midwest, 2012
Interior Award – Educational Category, Contract Magazine, 2012
What would happen to a canvas if it was kept in a poorly insulated and dark basement for ten years? The colors would fade. The fabric might accumulate mold. What would happen if it was left for 40 years? 65 years? 100 years?
The Cranbrook Academy, designed by the esteemed Finnish architect Eliel Saarinen, was experiencing firsthand the consequences of displaying and storing art in a facility with an inferior building envelope and HVAC system incapable of maintaining a proper conservation environment. The museum was at risk of losing its accreditation and its staff and donors were in a state of perpetual uneasiness about fulfilling its stewardship responsibilities for a collection that includes such notable artists as Frank Stella and Eli Harvey.  Our team was brought in to address this challenge and designed a new collections addition to be used as a learning space to enrich the museum's mission.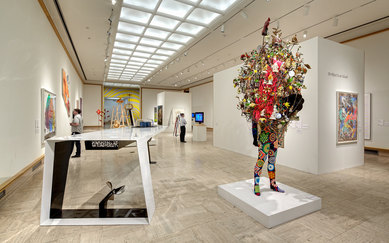 The tunnel connection allowed for the opportunity to create a unique entrance experience to the collection. Strategically placed UV ceiling spotlights illuminate the entry, guiding visitors and employees into the space. Utilizing a sliding curved panel, visitors feel as though they are entering a hidden wing of the building containing storied secrecy and uncovered history. This experience is enhanced through lighting fixtures placed above a metal grate ceiling to create a patterned effect below
Improvements to the museum envelope, surgically constructed from the interior of the building, with double pane argon filled glazing, and new space for a HVAC building plant was accomplished by carefully excavating the crawl space beneath the lower level galleries and support spaces.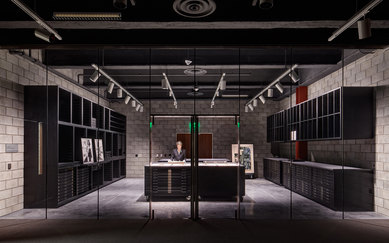 The design connects the past to the future. It utilizes materials like polished concrete flooring, concrete block and galvanized metal in combination and contrast with finely crafted materials like wood paneling, polished glass, stainless steel and glazed brick to respectfully complement the work of the illustrious original designer and forge a path toward a new era of influence for the museum.