Mesa Community College - Physical Science Building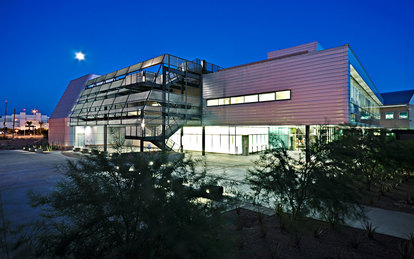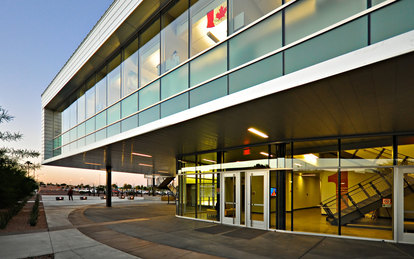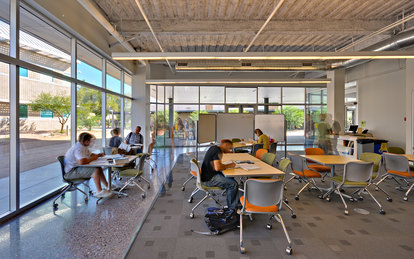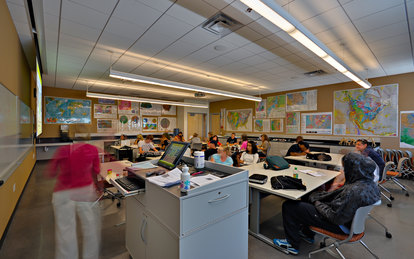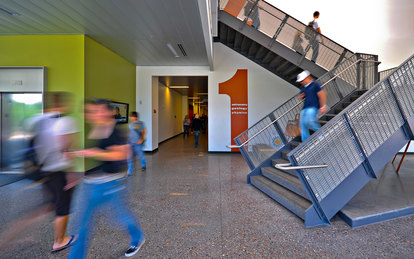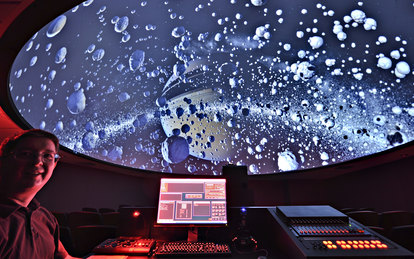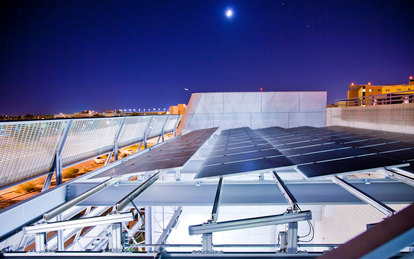 The Physical Science Building at Mesa Community College changes the way science facilities can be designed and planned for at two-year colleges.
Client
Mesa Community College
Location
Mesa, Arizona
Markets/Services
Architecture, Higher Education, Interiors, MEP Engineering, Programming, STEM (Science, Technology, Engineering, Math), Sustainable Design
Size
64,480 SF
Featured Awards
Institutional Buildings Award, Honorable Mention ASHRAE Technology Award, 2010
AIA Western Mountain Region, Distinguished Building Award, 2009
LEED Gold
Masonry Architectural Awards, Arizona Masonry Guild Excellence, 2009
Metal Architecture, Sustainable Design Award, 2009
The Physical Science Building breaks the mold of traditional community college design by providing multiple venues both inside and out, while facilitating social encounters to create an environment that promotes better connectivity.
SmithGroup's design of the four-story building is 64,480 and occupies a prominent place on campus with architecture that is commensurate with its location. As students enter from the campus interior, they are met with a transparent glass entrance that houses the student tutoring space, shaded against the desert sun through metal panels.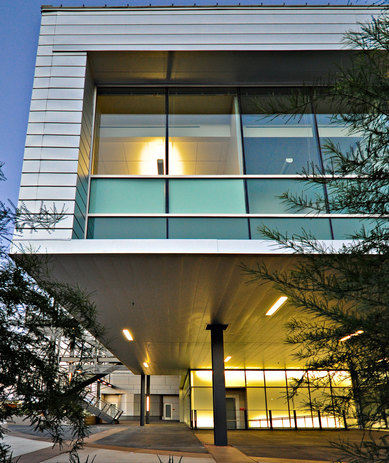 Upon entering, a three-story day-lit lobby organizes the building's components and provides socialization and informal study spaces. The opposite side of the building is reflective of the desert location, with a metal stairway and integrated solar-shading system that promotes the building's programing. In a strategic partnership with a local utility company, a large array of solar panels supply energy to the complex. Classroom and laboratory spaces are generously daylit, utilizing the college's southwestern location.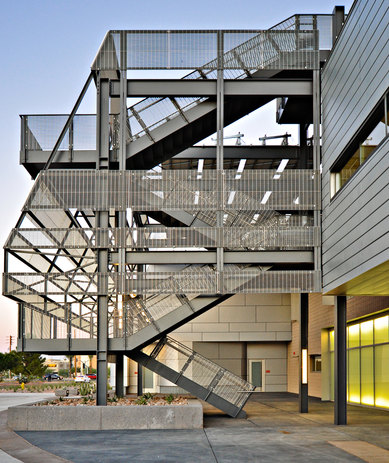 Materials used throughout the building include silver metal paneling, terra cotta and graphite-colored steel that lend a modernist industrial look throughout the entire complex. Metal shading extrudes from building walls, creating a dramatic shadow effect. Unique for a community college, a metal-sheathed 53-seat planetarium is located on the building's exterior, building intrigue to outsiders on the learning taking place within.
The Mesa Community College Physical Science Building facilitates the kind of causal, out-of-classroom learning, while providing indoor and outdoor venues for collaborative learning.