Michigan State University Hub for Innovation in Technology and Learning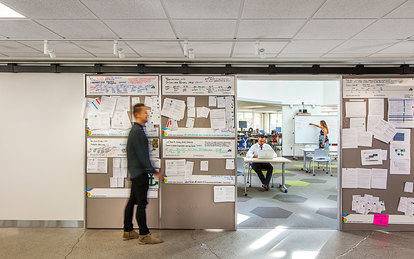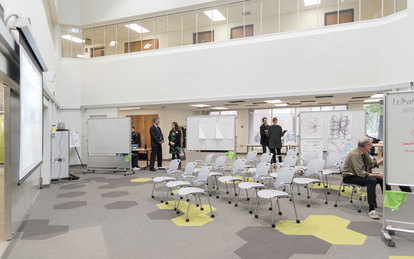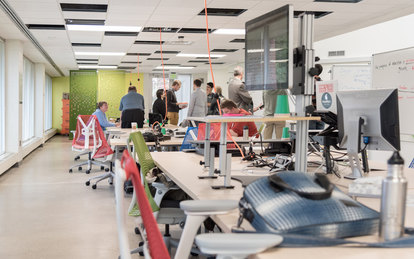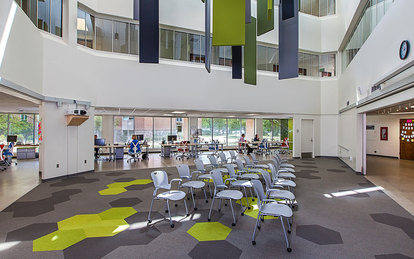 The University partnered with SmithGroup to transform 6,500 SF of existing space into Michigan State University's (MSU) Hub for Innovation in Learning and Technology. Conceived to be like an entrepreneurial start-up company – non-hierarchical, easily adapted to a variety of layouts – the renovation provides a venue for this increasingly vital collaboration space that is agile and flexible, enabling spontaneous and structured intellectual encounters.
Client
Michigan State University
Location
East Lansing, Michigan
Markets/Services
Higher Education, Interiors, Learning & Innovation Spaces
Size
6,500 SF
In a turbulent and exciting time for higher education, MSU has taken a leap forward and formed a maverick-minded team of facilitators, whose mission is to bring together individuals and programs, faculty, administrators and students from across the University, to share, explore and cross-pollinate innovative ideas about the very nature of learning, instruction and research.  The "Hub" was originally a loosely tethered online network, where interested parties could find access to resources, understand funding structures and partner with others to test those ideas and experimental projects. Understanding the Hub's potential, MSU committed further to a physical location and a regularly structured organization intended to support its community for the long term. In short: The Hub needed a home.
SmithGroup's design strategy process converged with the Hub's forming of their own organization, and in many ways mirrored a work ethic the Hub intends to exhibit. We engaged with MSU to explore the fundamental role of its new organization as well as ideal workflow, which informed space typologies and criteria for success.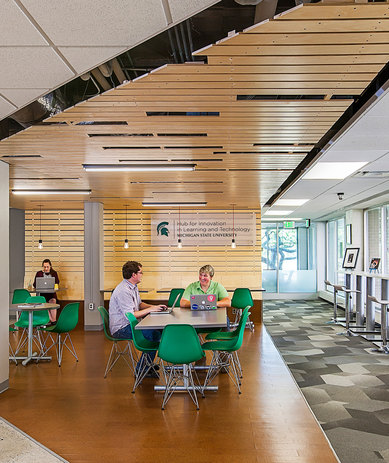 A principal diagonal corridor designated as Main Street organizes the space, in plan, into upper and lower triangles. This space has hackable zones, awash in natural light, adaptable to the wide range of projects that might engage the hub, and peppered throughout with collaboration tools and strategies: easily movable furniture and unassigned workstations, spring-loaded overhead power cables, large writable and tackable sliding barndoors that flex the space into a free-flowing-open or cloistered-and-tactical conversation café.
The Hub has a passionate team of 25 experts on learning strategies, educational methods, art, entrepreneurialism, and more, each promoting an atmosphere of shared knowledge and incubation. They now reside in a space that not only reflects their values but provides them a dynamic landscape to exponentially impact learning at their own university and beyond.