Southeast Boulevard Planning Study and Environmental Assessment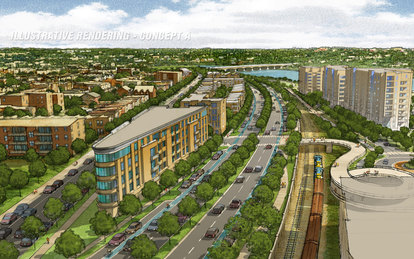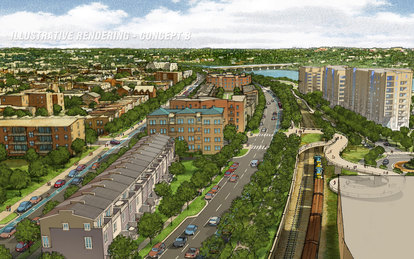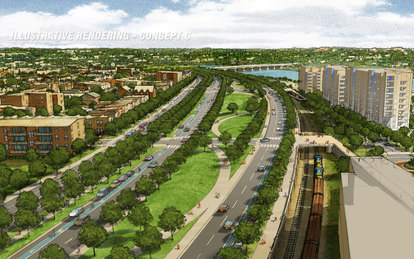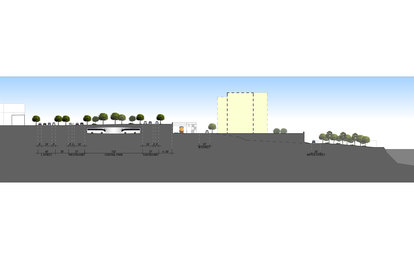 SmithGroup is assisting DC in repurposing old infrastructure and creating connectivity through new land uses and multimodal transportation solutions.
Client
DC Office of Planning
Location
Washington, DC
Markets/Services
Active Transportation & Mobility, Community & Regional Plans, Government, Landscape Architecture, Mobility, Urban Design, Urban Environments, Urban Planning
The Southeast Boulevard Planning Study is a land use, urban design and planning study reimagining what to do with a decommissioned highway adjacent to the Anacostia River. This highway, together with an adjacent railway line, has long disconnected the historic Capitol Hill neighborhood to the north from the river. The DC Office of Planning engaged SmithGroup to develop three concepts that include different land use options, extend the city grid and neighborhood fabric, and provide pedestrian connections to the waterfront. The study also integrates multimodal complete streets to serve vehicles, transit, cyclists, and pedestrians while addressing a citywide need by integrating bus parking on site.
SmithGroup is currently teamed with Kimley Horn to produce an Environmental Assessment for the DC Department of Transportation as the next step in furthering the project to implementation. Reimagining unused infrastructure, creating new land uses, and enhancing connectivity, the Southeast Boulevard project will expand a neighborhood and improve multimodal connectivity for the entire city.