University of Michigan Biological Sciences Building and Museum of Natural History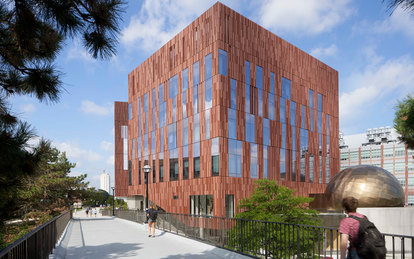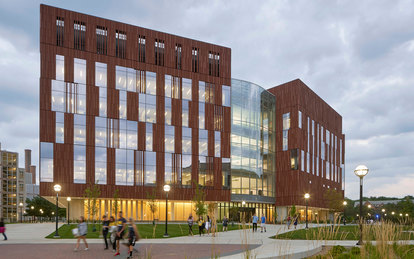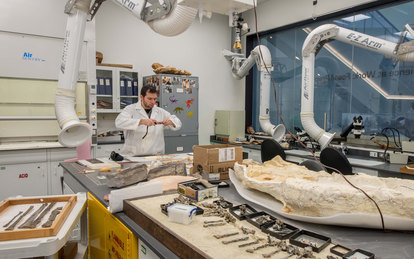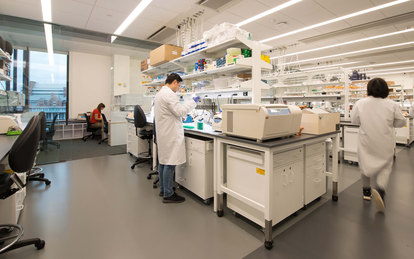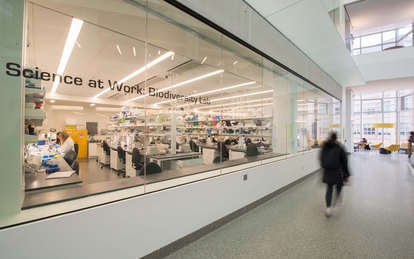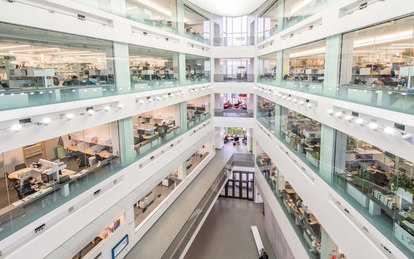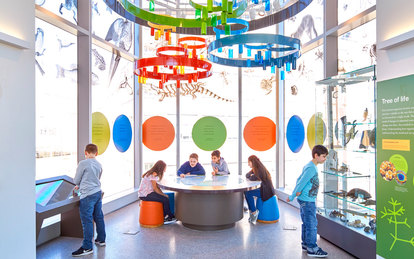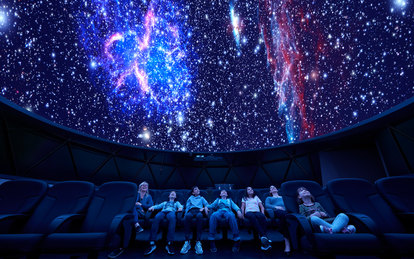 Characterized by a transparent, open-lab concept, the Biological Sciences Building (BSB) spurs unprecedented collaboration among the biological sciences, supporting world-class investigations and attracting talented researchers and students.
Client
University of Michigan
Location
Ann Arbor, Michigan
Markets/Services
Academic Research, Architecture, Civil Engineering, Cultural, Higher Education, Lab Planning, Landscape Architecture, Lighting Design, MEP Engineering, Museums & Galleries, Science & Technology, Structural Engineering
Size
300,000 SF
Featured Awards
Award for Excellence in Innovation, Lab Design Excellence Awards, Lab Manager, 2021
Biological sciences have long been part of the University of Michigan, but as the programs evolved independently, they split into separate departments and buildings on campus. The university recognized that re-uniting the departments of molecular, cellular and developmental biology; ecology and evolutionary biology within one building would be advantageous to both academics and advanced research, offering new avenues for more engaging, collaborative study. The new facility would also house the institution's widely popular Museum of Natural History, increasing the public's exposure to the biological sciences and the important work occurring at the University of Michigan.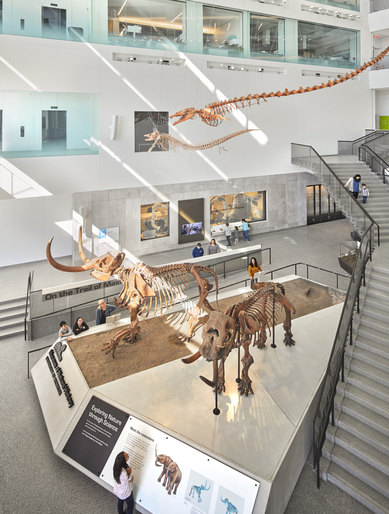 The team of SmithGroup and Ennead Architects was challenged to create a transparent, shared environment that fostered collaboration and engaged the public, yet also respected investigators needs for private work space. Equally challenging, the team was tasked to develop a highly-efficient layout that would accommodate multiple programs and users within smaller laboratory spaces.  
With the goal of breaking down silos and creating more interactive spaces, our team used a social-mapping software and employed stacking exercises to explore how research clusters might work together and identify opportunities to join functions, equipment and more. The resulting plan created "neighborhoods" of compatible sciences that share open labs, flexible work spaces and equipment such as microscopes and fume hoods—increasing collaboration, eliminating costly duplication and preserving space for future needs. The design also accounts for personal space, allotting each investigator a private work area. Researchers and their teams also have access to shared computational living rooms, state-of-the-art plant growing rooms and chambers, specimen artifact collections, sophisticated imaging equipment and one of the largest university aquatics facilities in the U.S.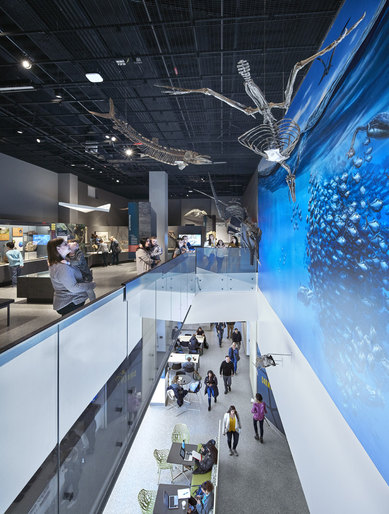 With its atriums and open labs, the BSB is uncommonly transparent for a research facility and subtly suggests that science is unfolding in front of you as one moves deeper into the space. Students are afforded various opportunities to experience the sciences and interact with researchers through glass-enclosed laboratories or Science at Work exhibits. The interactive spaces enable visitors to watch scientists at work and utilize a two-way intercom system to engage with researchers and ask questions about the work that is underway.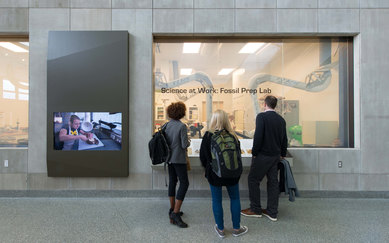 The unique merging of the BSB with the newly re-envisioned Museum of Natural History—configured as a series of public galleries and exhibits that allow visitors to wind their way through the museum—gives the community access to longtime favorite exhibits, as well as current research activities. New museum amenities bring visitors face-to-face with scientists and researchers, offering the ability to investigate labs for hands on learning and experience interactive exhibits that bring the sciences to a broad and inquisitive audience.