University of North Carolina at Greensboro, Nursing and Instructional Building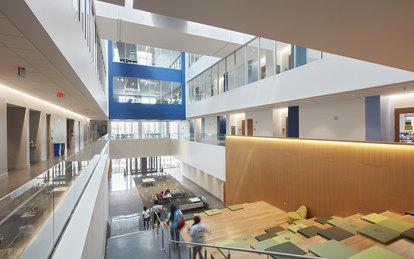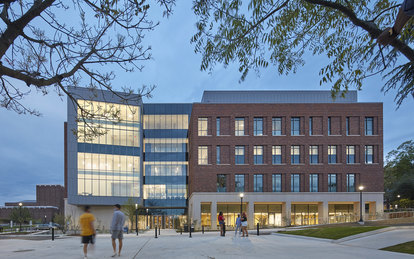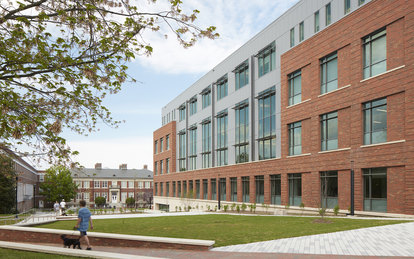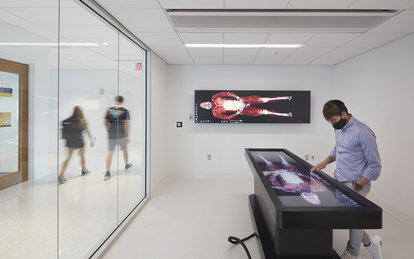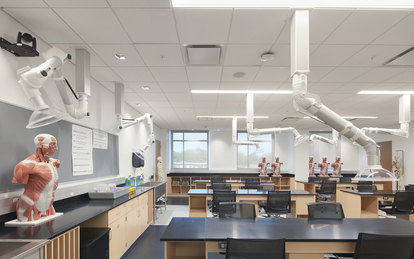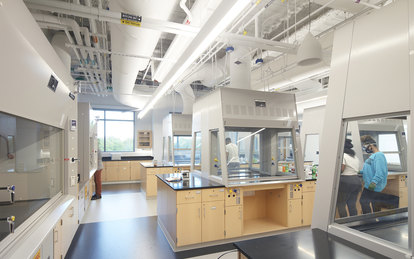 Located just off the campus core, the University of North Carolina (UNC) Greensboro Nursing and Instructional Building is an interdisciplinary facility that is home to the School of Nursing and includes programs for the College of Arts & Sciences and the School of Health and Human Sciences. The building is designed to enable synergies between these related programs and encourage collaborative learning.
Client
University of North Carolina at Greensboro
Location
Greensboro, North Carolina
Markets/Services
Higher Education, Health Sciences, Architecture, Lab Planning, Interiors
Size
180,00 SF
The UNC Greensboro's School of Nursing had outgrown its current space in the Moore Building, a facility that had opened in 1969. To remain competitive and give students a more dynamic and innovative academic experience, the University needed a new building that could address the growth and shortage of science lab spaces. The new building is a place to train nurses but is also an academic building for the College of Arts & Sciences and the School of Health and Human Sciences to include teaching labs for biology, chemistry and health sciences.
Situated at the intersection of two main campus paths, SmithGroup's design for the building incorporates a two-wing building joined by a glass atrium.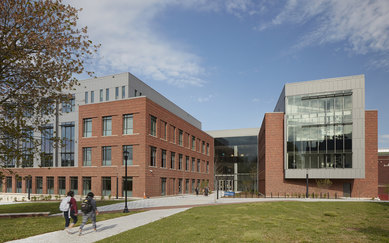 The new instructional building is architecturally contextual, picking up the forms and materials of the larger campus including the characteristic stone and red brick. The larger wing nests into a gentle hillside creating a seamless transition for the grade change inside the building.
The five-story atrium is an active flexible learning space where student and faculty can gather for large and small group activities, encouraging serendipitous encounters between different disciplines.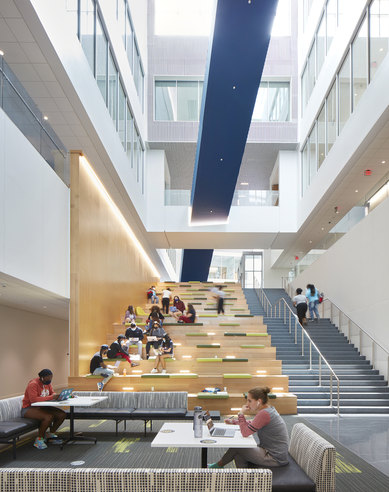 The building's design encourages innovation through the synergies of the co-located programs, in spaces that support engaged experiential learning and state-of-the-art simulation spaces that are both safe and environmentally sustainable. Clinical health and simulation labs enable state-of-the-art remote and in-person learning for nursing students; kinesiology labs and research suites advance the study of health sciences; and biology and chemistry labs provides hands-on learning for students of the College of Arts & Sciences. Numerous flexible and multi-purpose spaces provide students and faculty from across the university touch-down spaces, classrooms and computer labs facilities.