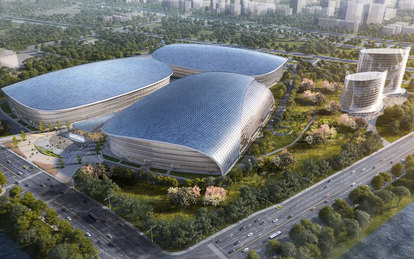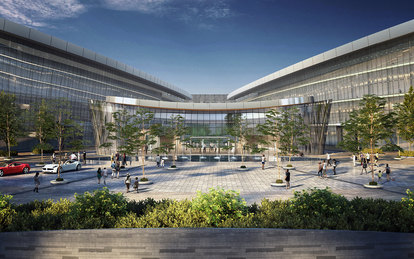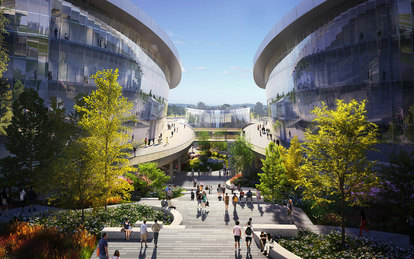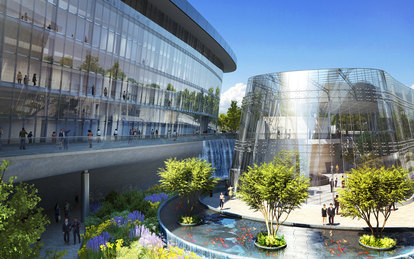 Wanxiang Innova City, located in Hangzhou, China, is envisioned as the world's most advanced Smart City. The framework for this vision identifies Area 1 as a new manufacturing campus of roughly 4.4M square feet that will be the catalyst for future development. Wanxiang aspires for this former agricultural site to become a global symbol for social, economic and environmental prosperity while remaining anchored in local roots.
Markets/Services
Architecture, Research Parks & Innovation Districts, Science & Technology
Size
4.4 Million SF
Designed as an efficient laboratory factory module that can be deployed in several different configurations and orientations, the design for the new plant is tuned to the local climate and optimized to enhance the comfort of those using the space on a day-to-day basis.  Outside of the production floor, all workspaces are within 40-feet of the facade, reducing the need for artificial light and providing views to the gardens that surround each of the structures.  A series of outdoor amenities include a landscape buffer around the perimeter of the site, a centralized sunken garden and tiered terraces that provide places of respite designed to embrace Hangzhou's legacy as "the city in the garden."  These gardens also collect and treat stormwater on site, a new concept for this area of the country.
A centralized showroom is designed to celebrate the innovative products being designed and built on campus, while programmed space for health and wellness reinforces a commitment to recruitment and retention of its employees.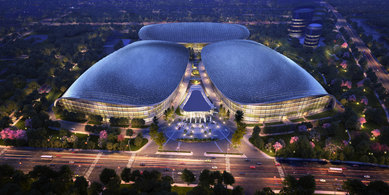 The energy footprint of these massive structures is minimized by utilizing a gradient approach to planning, where the amount of energy needed at the center of the building is incrementally reduced through a layering of passive techniques. First, the space immediately surrounding the building is passively cooled by substantial overhangs. Second, the exterior walls are angled away from direct solar heat gains, preventing them from absorbing and re-radiating unwanted heat to the interior. Third, the outermost portion of usable space is designed as transitory circulation, with the ability to have larger temperature swings while maintaining comfort. Lastly, low intensity internal programs like office areas and changing rooms wrap the central area of highly controlled laboratory manufacturing space.
Additionally, the building form is designed to promote passive air flow. The rounded form dramatically reduces stagnant air zones and vortices, promoting even further passive cooling. Renewable strategies include energy-generating BIPV integrated into the exterior curtain wall, and a roof mounted PV array on each of the three structures.  Conceptual results indicate that it could be possible to make one of the three factories net zero, based on onsite renewables.