Return to Office Signage - Design Package
Human beings have an innate desire to socialize, connect and interact in group settings that inspire and promote innovation and creativity. As businesses begin to return to shared physical workspaces, each organization must determine what this new era of work will look like for their company – giving thoughtful consideration to what adjustments will or will not align with their firm's mission, vision, brand, culture and values. Part of this decision-making process must include how to properly incorporate supplemental signage to address updated space utilization standards, guide changes in behaviors, and establish new norms during the COVID-19 pandemic.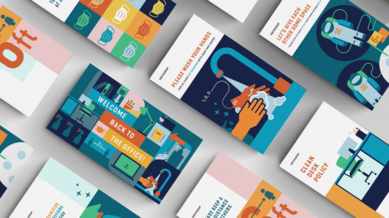 SmithGroup's graphic design team has created a sophisticated, cost-effective solution to help organizations streamline this process – developing a print-ready signage package to accommodate a variety of needs. Bold, clean, inviting and colorful, these artful solutions can help you to welcome employees and visitors, address safety and cleaning requirements, and communicate wayfinding and occupancy in a style that is reflective of your company's brand and culture.

Easily readable up-close and from a distance, the concepts range from playful to serious and can be printed in multiple sizes (11x17 & 8.5x11) with the option to choose full-bleed or bordered edges. The package has also been designed to accommodate variations in tones and colors – building upon palettes proven to be inviting and uplifting during times of uncertainty.
Additionally, the deliverables can be converted from portrait to horizontal orientation, further expanding application to allow for use in digital formats such as display on screens, monitors or more. Select elements can also be sized for web use, too.
Interested in learning more?                                                          
If you are interested in learning more or want to purchase this attractive and cost-effective signage package, please contact amy.warden [at] smithgroup.com (Amy Warden)title="E-mail amy.warden [at] smithgroup.com", CPSM, Workplace Practice Manager.