SmithGroup扩展业务。在威斯康辛州麦迪逊分部增加建筑设计业务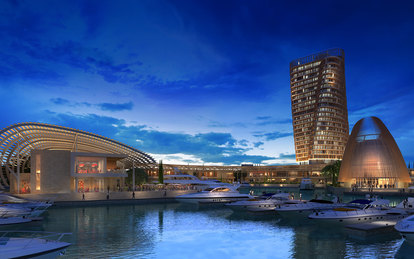 Move supports strategy to expand the firm's expertise, reach in Wisconsin
SmithGroup, one of the nation's largest integrated design firms, will now offer architecture services at its Madison, Wisconsin office for the first time in the company's history.
With 12 offices in the U.S. and China, SmithGroup has provided a full range of professional services for large and complex projects across markets. The decision to offer architecture services in Madison—which has historically focused its practice on providing award-winning site design, landscape architecture, civil and coastal engineering expertise for a range of master planning, urban design and waterfront project types—supports strategic initiatives to expand SmithGroup's steady growth and positions the firm to better service clients and building owners that are increasingly opting to use multi-disciplinary firms to solve project challenges.
Having a myriad of services—from master planning and architecture, to multiple engineering disciplines, landscape architecture and more—provided by a single, integrated firm allows owners to benefit from the creativity and heightened quality that such collaboration brings. "By expanding our service offerings to include architectural talent in Madison, we're underscoring our commitment to become increasingly multi-disciplined and fully integrated," said SmithGroup Managing Partner Troy Thompson.
"This office has earned a long-standing reputation for delivering award-winning urban design, campus and waterfront projects," added Bill Patek, director of the firm's Madison office. "Expanding our portfolio to provide clients access to a broader range of design expertise will create exciting new opportunities for both parties."
At the Ayia Napa Marina & Resort, situated on the southeastern coast of Cyprus, SmithGroup was commissioned by M.M. Makronisos Marina, Ltd, part of the Caramondani Group, to provide integrated planning, design and engineering services for a 70-acre mixed-use development, including a 600-slip mega-yacht marina, private villas, a working waterfront and boatyard, two contemporary high-rise condominium towers, a community event center, retail spaces, and luxury resort amenities. The initial stage of construction, planned to complete in June 2019, focuses on creating the marina's robust infrastructure. Phase Two will focus on residential and commercial spaces and is scheduled for completion in October 2021.
Other notable multidisciplinary projects completed by SmithGroup include:
– Chesapeake Bay Foundation's Brock Environmental Center, Virginia Beach, Virginia – This net-zero energy, Living Building Challenge Certified facility has been lauded as "a pinnacle of sustainability and resilience" for its many design and engineering accomplishments.
– University of Pennsylvania's Stephen A. Levin Building, Philadelphia, Pennsylvania – This classroom and laboratory project brings together the university's psychology, biology and behavioral sciences programs into an iconic facility and creates a gateway for the school's newly-defined life sciences precinct.
– DPR Construction's Phoenix Regional Office, Phoenix, Arizona – Once an adult-themed boutique, this high-performance workplace is a living laboratory of green design and Arizona's first commercial net-zero-energy office building.
SmithGroup (www.smithgroup.com) is one of the world's preeminent integrated design firms. Working across a network of 12 offices in the U.S. and China, a team of 1,300 experts is committed to excellence in strategy, design and delivery. The scale of the firm's thinking and organization produces partnerships with forward-looking clients that maximize opportunities, minimize risk and solve their most complex problems. SmithGroup creates exceptional design solutions for healthcare, science and technology organizations, higher education and cultural institutions, urban environments, diverse workplaces, mixed-use and waterfront developments, and parks and open spaces.