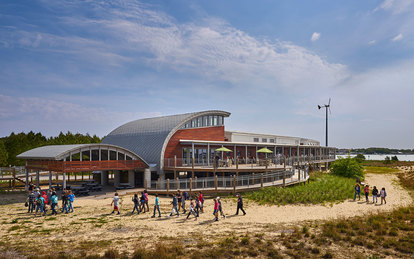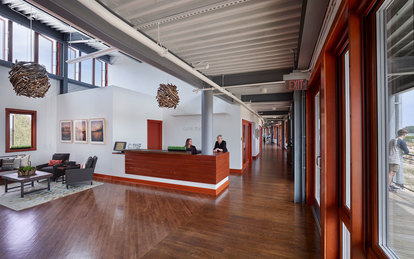 For its new Brock Environmental Center, the Chesapeake Bay Foundation (CBF) envisioned transcending LEED, achieving zero-net-CO2 emissions and zero waste leaving the site—a new and significant paradigm for sustainability. To design the Center, CBF engaged SmithGroup, building on a long-standing relationship.
客户
Chesapeake Bay Foundation
位置
Virginia Beach, VA
市场/服务
Cultural, Workplace, Waterfront, Sustainable Design, MEP Engineering, Architecture, Programming, Visitor & Interpretive Centers, Commercial Office Buildings
大小
13,400 SF
特色奖项

American Institute of Architects -- Committee on the Environment (COTE) Top Ten 'Plus' Award, 2017
LEED-NC-Platinum
IA Committee on the Environment (COTE), COTE Top Ten, 2017
High Performance Building & Community Award, Sustainable Buildings Industry Council/Beyond Green, 2016
Sustainability Initiative of the Year, Building Intelligence Group, 2016
GREEN GOOD DESIGN Award - Green Architecture -- Chicago Athenaeum Museum of Architecture and Design Awards, 2017
GREEN GOOD DESIGN Award -- The Chicago Athenaeum Museum of Architecture and Design, 2016
National Technology Award, Second Place, Commercial Buildings, ASHRAE, 2016
Honor Award Institutional Architecture, AIA Maryland, 2016
Best of the Best Green Project, Engineering News Record, 2016
Technology Second Place, New Commercial Buildings, American Society of Landscape Architecture, 2016
Award of Excellence Mechanical Systems Design, ASCE Architectural Engineering Institute, 2016
Award of Merit Architectural Engineering Integration, ASCE Architectural Engineering Institute, 2016
Award of Excellence - Commercial Architecture, AIA Northern Virginia, 2016
Governor's Environmental Excellence Award, Virginia Department of Environmental Quality, 2015
Best Green Project, ENR Mid-Atlantic, 2015
Best Sustainable Design - Award of Excellence, Hampton Roads Association for Commercial Real Estate, 2015
Sustainable Building Project Award, American Planning Association, 2015
American Society of Heating, Refrigerating and Air Conditioning Engineers (ASHRAE) -- Technology Award, Honorable Mention – Educational, 2018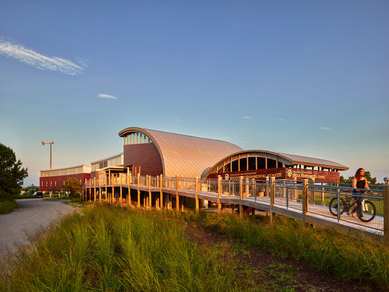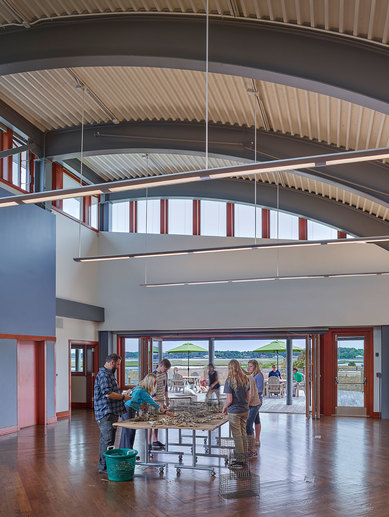 Site development, focused on preservation of the local ecology, includes a boat pier with floating dock, a 250-foot kayak pier, and an open-air education pavilion.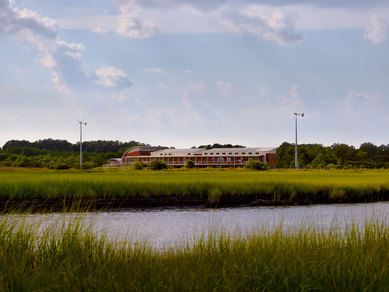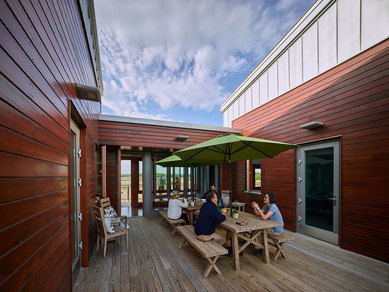 A collaborative approach to planning at the project's onset forged a close relationship with the City's regulatory agencies, helping them to adopt sustainability strategies such as permeable paving and on-site waste treatment. In 2016, the Brock Center achieved Living Building Challenge certification from the International Living Future Institute.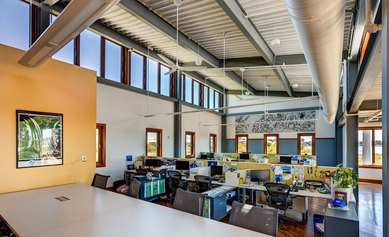 CBF is committed to showcasing the new the Center's sustainable attributes, it publishes its daily usage on a Building Dashboard.