Exploring the ADA's Influence on Design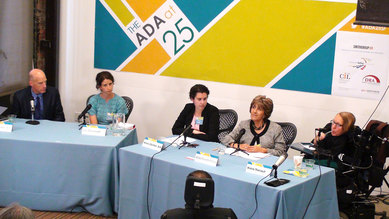 2015 marked the 25th anniversary of the Americans with Disabilities Act. Since the act was first signed into law, what progress has been made to accommodate the wide spectrum of human abilities? Have we moved beyond guidelines toward inherently designing with everyone in mind?
The "ADA at 25," a panel discussion hosted by SmithGroup's San Francisco office on July 23, 2015, aimed to explore these questions and more. The panel examined how this civil rights legislation has changed the lives of people with disabilities, the impact it has had on design, and where we go from here. A wide-range of experiences and perspectives made for an engaging and lively discussion. Despite diverse backgrounds, panelists were in overwhelming agreement that while the ADA has made great strides over the past 25 years, there is more work to be done.
Challenges cited include a lack of compliance and the ADA's inability to keep up with an ever changing environment. Education and awareness were also identified as critical elements in the continued advancement of the ADA. As panelist Chris Downey stated, "If you don't learn it through humanity then you're going to learn it as a restrictive code. It's going to be unremarkable and regrettable. It's going to fail to get architects to take the role we need to take, which is an advocate—an advocate for all users."
Panelists encouraged those in attendance to think beyond code compliance and to move toward incorporating inclusive design into their way of thinking, designing not just for people with disabilities, but for everyone's well-being. Attendees left with a heightened sense of awareness and enthusiasm, along with a renewed commitment to universal design.
Panelists:
Chris Downey, AIA, Principal, Architecture for the Blind
Gilda Puente-Peters, Principal, CASp; GPPA Architecture, Universal Design
Zoe Chernicoff, Attorney, Disability Rights Advocates (DRA)
Alana Theriault, Work & Benefits Counselor, Center for Independent Living, Berkeley (CIL)
Alexis Denton, AIA, Architect & Gerontologist, SmithGroup
Panel Moderator: Michael Chambers, FAIA, SmithGroup