We'll provide the fertile ground. Whether you're well into your career or just getting started, you'll discover an environment here that's eager to see you flourish. Our professional development series, InKNOWvations, provides ongoing training and development in technical skills, industry trends and best practices designed to keep you at the forefront of your field.
Our leadership development and Emerging Leaders programs develop and refine your skills in collaboration and management. You'll stay relevant on the latest tools and technologies with your free subscription to LinkedIn Learning.  And we welcome your desires for continuing education, providing support for tuition, exam fees, ARE study resources and more.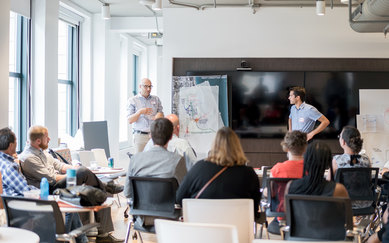 Better yet, your most valuable career advancement will happen right on the job. Days at SmithGroup regularly bring new challenges and new opportunities, your invitation to stretch your talents and exceed even your own expectations. You'll be backed by a team that wants to help you succeed—supportive co-workers, welcoming mentors—and a new coaching program.
Thanks to SmithGroup's high-caliber clients and complex projects, people spend their entire careers here, still growing and learning every day. Perhaps you, too, can reap a long and rewarding career with us. 
Learn more about how you can grow your career with SmithGroup by viewing our current openings.