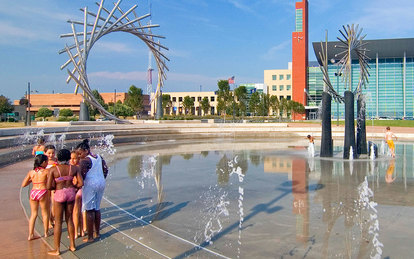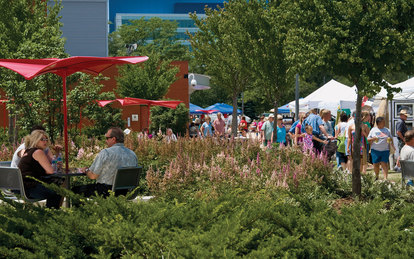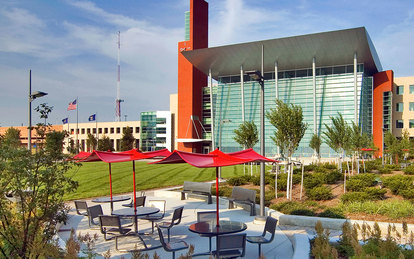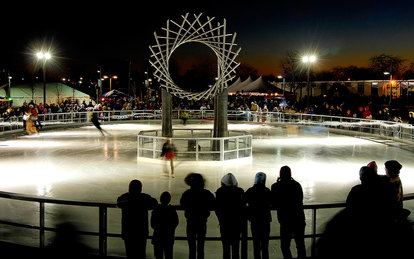 A suburban community north of Detroit, Warren turned to SmithGroup to refine its City Center master plan and to help establish a more urban downtown core.
市场/服务
Civil Engineering, Community & Regional Plans, Downtowns & Districts, Government, Landscape Architecture, Parks & Open Spaces, Public Spaces, Urban Design, Urban Environments, Urban Parks & Public Spaces, Urban Planning
大小
2 acres
SmithGroup's plan helped Warren kick off construction of a new mixed-use center, incorporating a gridded street system and a boldly modern city hall and library along with stores, offices, townhomes and lofts—all within a 100-acre site.
The landmark City Square is the linchpin, the new heart of downtown Warren. SmithGroup's design provides a dynamic, two-acre setting for community activities, hosting farmers' markets and a variety of events. The Square includes a concert stage, lawn, pavilion, and an interactive water feature that converts in winter to an ice rink, providing year-round enjoyment. At the Square's entrance stands Dawn, an inspiring pair of steel sculptures by regional artist David Barr that are now part of the City's official logo. It expresses the community's optimism and pride, and the new beginning signified by their energized urban center.