Learn More About Our Perks
We'll be the first to tell you that some of the best perks of working at SmithGroup are the intangible ones: The challenge of complex projects and problem-solving. The satisfaction of being part of team that respects and values your contributions, no matter what your age or experience. The good feeling you get spending your days with smart, interesting and kind co-workers, in compelling office environments. It all makes SmithGroup a pretty great place to come to work each day.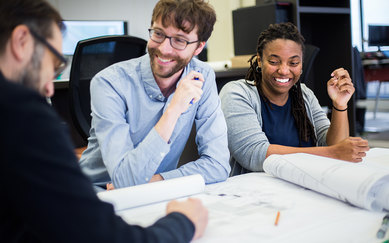 We think our employees are pretty great, too, so we offer an enticing package of benefits:
COMPENSATION AND SAVINGS
You'll receive a performance and salary review each year, along with an annual bonus opportunity for demonstrating extraordinary results. SmithGroup also offers a 401(k) retirement plan with employer matching, life insurance and additional benefits for commuters.
TIME OFF
We truly encourage work/life balance, with flex scheduling, generous vacation plans, paid holidays, and 15 paid Fridays off. Our paid time off (PTO) plan offers at least three weeks of PTO for new employees.
HEALTH AND WELLNESS
SmithGroup offers medical, dental, vision and prescription healthcare plans, as well as flexible spending accounts and disability coverage.
Pursuant to Centers for Medicare & Medicaid Services (CMS) regulations, these are SmithGroup's machine-readable files.
CAREER GROWTH AND DEVELOPMENT
Getting hired is just the beginning. We want to help you thrive, and enjoy a long, successful career at SmithGroup. We've created a robust training and development platform that includes personal coaching. A tuition assistance program supports external higher-education programs. We also provide assistance for professional licensure, and other professional designations and memberships.