We surprise ourselves sometimes with how SmithGroup has grown and evolved, from a single architect in mid-19th-century Detroit to a global firm creating award-winning work all over the world. Yet SmithGroup still feels like a small firm: We all work together in open, collaborative, wonderfully creative spaces. We share ideas and learn from one another, no matter what our seniority or job title. We know one other, and we need one another, because every person here is an original, individual, valuable member of the team.  When the work is done, we often stick around for a game of ping pong or Xbox, and the occasional party.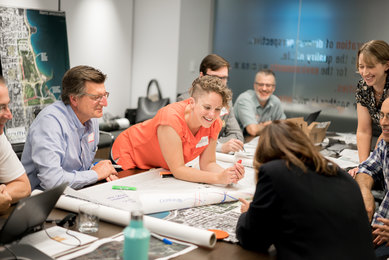 It all comes with all the resources of the large, successful firm that SmithGroup has become, with multiple professional disciplines, market areas and offices. Your co-workers include many of the leading experts in their profession; our clients might include a who's who of Fortune 500 companies, academia, leading research labs and government institutions. It means outstanding growth opportunities, career development programs, perks, benefits and really great work environments. We've selected prime downtown locations for each SmithGroup office, accessible by foot, bike or transit, with lots of urban amenities right out the door.
We believe in working hard, and then we believe in setting it aside to recharge. Work-life balance isn't a goal here, it's a philosophy. We offer flex scheduling, paid holidays and 15 paid Fridays off per year. We also believe in giving back to our communities, through pro bono work participating in food drives, beach clean-ups, and other fundraising efforts like our popular "CANstruction" competition. Our founder, Sheldon Smith, was determined to make a difference when he took up the trade of architecture. We're making a difference too—and we think Sheldon would be awfully proud of how we've carried his name.
Learn more about each office's unique culture on our locations page or view our current openings.