14 Lessons from Expert Building Teams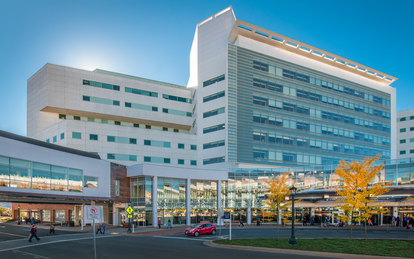 Building Design + Construction magazine chronicles lessons learned from four teams on expanding and renovating occupied hospitals.  SmithGroup contributed their insights from the renovation of the University of Virginia Medical Center.
The University of Virginia Medical Center is adding 50,000 sf and 72 universal patient beds to its 500-bed, 20-year-old hospital. Another 50,000 sf of space will be renovated during the $54 million project. The overall $150 million expansion of the medical center campus also includes construction of a new cancer center (architect is ZGF) and a parking garage. The Building Team consists of a Mid-Atlantic-based group from Gilbane Building (CM, not at risk) and a design team from SmithGroup's Washington, DC, office.
To say the site is tight would be an understatement; there was no available land adjacent to the hospital on which an addition could be built, so the team devised a skinny, eight-story, 34-foot-deep addition that's being more or less "laminated" onto the front elevation of the hospital, over the existing lobby and main entrance, with a two-foot-eight-inch gap between the new construction and the old exterior wall. This will remain intact until the addition is closed up and the gap built out. Once that façade comes off, the area where old hospital meets new (mostly corridors and staff support spaces) is slated for renovation.
Construction started in October 2008 and is expected to wrap up in August 2011.
Read on to learn lessons from the building team.