IdeaLab: Design Concepts for an Autonomous, AI-Powered Clinic
SmithGroup's IdeaLab is a research and innovation process that gives us the creative space—outside of everyday project concerns—to study future healthcare and other industry disruptors in depth. As part of this initiative, we explore the inventions, products, technologies, and strategies that are in the pipeline (or not yet imagined) to anticipate what these will mean for the industry and, most importantly, for our clients. 
The inaugural SmithGroup IdeaLab presented this challenge: can you design a clinic for the year 2035 that is run entirely by an artificial intelligence, with little or no human-to-human interaction?
After a firmwide crowdsourcing event that collected ideas on AI in healthcare and design, nine of us were chosen from across SmithGroup to participate in the lab. Each team of three was assigned a persona, a human-centered design technique to help the teams understand, from their perspective, a user's needs, behaviors and expectations. We began with an extensive research and brainstorming phase, sharing ideas, articles, inspiring sci-fi examples, research and discussions on the future of AI in healthcare, the current problems facing patients, their future pain points in the healthcare system, and how best to innovate to remove those pain points, using our persona as a touchpoint.
Our patient is Karla. Karla is a middle-aged mother of two who lives with her spouse in Seattle, Washington. Karla has recently been diagnosed with breast cancer, in addition to dealing with Type 2 diabetes and a history of heart conditions in her family. This has motivated her to become a healthcare seeker. Karla's time is split between work and home, and she is hoping for more time for exercise and family. Her health has not been a priority till now, but Karla is looking to improve her health in light of her cancer diagnosis and address her other chronic issues. She is seeking help, looking for solutions.
Walking in Karla's shoes, our team asked: How can we best help Karla find the time and space to focus on her wellness? What about other illnesses: don't forget that Karla also has type 2 diabetes. Is there a way to improve self-care and examination? Could Karla be diagnosed earlier and treated closer to home, in a more convenient place?
We first looked at the health infrastructure as it exists today. In 2016, Karla would have a mammogram first. Mammography machines are large and expensive and require special accommodations. In 2013, only 67% of women over 40 in the US had had a mammogram in the last two years. This figure has actually fallen for all demographics since the year 2000. In the United States, 12.1 million mammograms are performed annually, according to the Centers for Disease Control and Prevention (CDC). Fifty percent of those tests yield false positive results, according to the American Cancer Society (ACS)1, with one in every two healthy women being told they have cancer. Over 1.6 million breast biopsies are performed annually nationwide, and about 20% are unnecessary, performed due to false-positive mammogram results.2
If an abnormality was detected in Kara's mammogram, she may have been booked for a follow-up breast ultrasound, perhaps waiting weeks for an appointment or test results. Ultrasound detection rates are similar to that of mammograms, but in 2016, AI, still in its infancy, is already being used to help aggregate and analyze millions of ultrasound readings, which is expected to significantly improve accuracy.
In addition to concerns about her tests accuracy, and before a definitive diagnosis is even made, Karla is already having to navigate a complex series of appointments and decisions about her health. By the time she is diagnosed, she has to find the time to make appointments with different specialists, undergo additional tests, usually at different locations, wait for results, coordinate with her insurance company, and decide her treatment plan.
The Age of AI
In the Age of AI, healthcare design has the potential to address a wide range of issues:
Provide opportunities for caregivers to work remotely via advanced, AI-assisted telehealth networks.
Free clinical professionals from mundane tasks, allowing them to work at the top of their license.
Leverage data to combat chronic diseases.
Impact population health at multiple scales.
Make care more accessible and equitable.
Our autonomous, AI-powered PODS (Personal, On-Demand Service) will allow greater access to healthcare for those in need. By knitting together the Internet of Things with collaborative AI networks, we can provide a more holistic and equitable approach to healthcare delivery and wellness. Our PODS design concept is equipped to respond to differing patient types and contexts, creating an adaptive healthcare infrastructure for the future.
Locating the PODS in an easily-accessible retail environment, like a CVS, seems a logical choice, as they are already expanding their services, taking over the pharmacies of other retailers and focusing on wellness branding. They are convenient and local in many areas of the US and locations that can grow while remaining equitable and non-intimidating. CVS is also becoming a vertically integrated care provider with its Caremark benefits management program, and is merging with Aetna. That they could deploy an A.I. to better serve customer's habits and using patient data is a logical next step. But the PODS concept can be adapted to almost any environment, as well as deployed at multiple scales.
1 National Center for Health Statistics. Health, United States, 2015: With Special Feature on Racial and Ethnic Health Disparities. Hyattsville, MD. 2016.
2 American Cancer Society, Limitations of Mammograms. (2017, September 1). Retrieved December 14, 2017, from https://www.cancer.org/cancer/breast-cancer/screening-tests-and-early-d…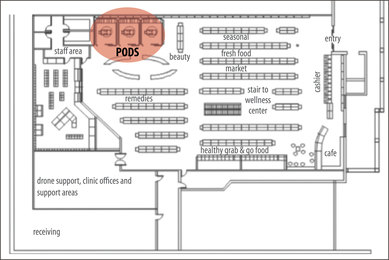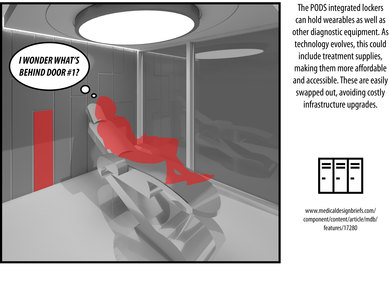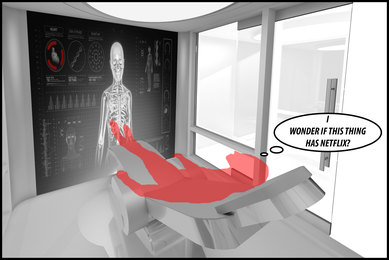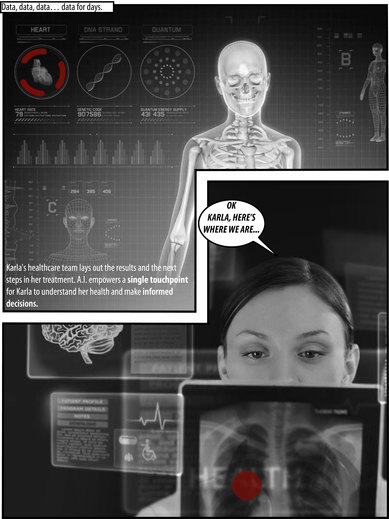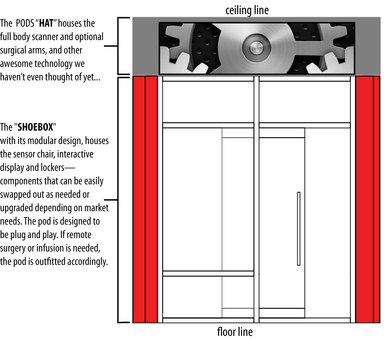 Brave New World
In the same manner that the Three Laws of Robotics govern the behavior of robots in a world of humans, AI will need governing principles to follow. This is especially true in a healthcare setting, as AI will have a profound impact on human health, in the most sensitive of circumstances and settings. Design can (should) drive the technology, allowing humans to lay out the intent for the world they wish to inhabit.
In the future, architecture and technology will become further integrated into an accessible yet invisible infrastructure. AI will empower humanity by granting them greater control of their lives. The continuum of care will be further stabilized, freeing up people to care for people. AI will take on paperwork, finding specialists, checking prescriptions, and other routine, time-consuming processes. The power of AI will hasten diagnosis and emphasize preventative therapies, possibly eliminating chronic diseases and making healthcare more effective and accessible. But healthcare, even if delivered by an artificial intelligence, will always be a human-centered endeavor.