Mountain Park Health Center Gateway Clinic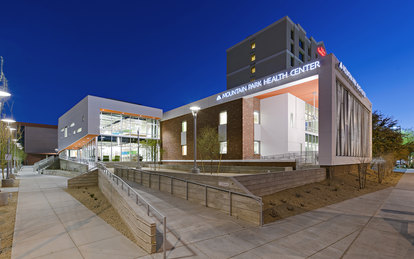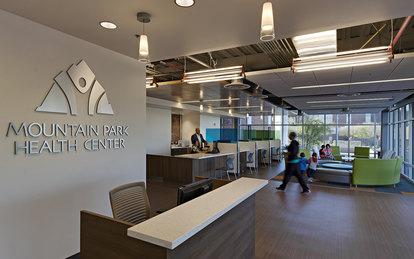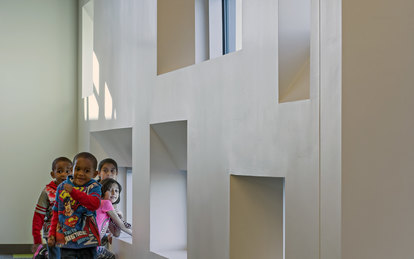 Mountain Park Health Center (MPHC) has a clear mission: to provide high-quality, affordable healthcare to families in the Phoenix metro area Valley of the Sun. The federally-funded community health organization had five locations and saw the need for a sixth in the East Valley. The system selected a central location, easily accessible by bus and light rail. SmithGroup's design for the new clinic, housed in two previously vacant commercial buildings, is a model for sustainable adaptive reuse.
The new Gateway Clinic allows MPHC to meet the needs of an additional 12,000 Valley residents, many of them currently underserved, create more jobs, and provide an expanded compliment of services. The redevelopment includes multiple exam rooms, a dental clinic, Mayo/Arizona State specialty care and telemedicine, and other expanded services. The larger, accessible exam rooms accommodate family members so they can partner with patients in their healthcare. Education stations in each exam room allow patients and their care team to discuss real time health education. Waiting rooms equipped with comfortable seating, community tables, and even homework stations.
客户
Mountain Park Health Center
位置
Phoenix, Arizona
市场/服务
Healthcare, Health & Wellness, Ambulatory Care, Architecture, MEP Engineering, Landscape Architecture
大小
55,000 sf
特色奖项
IIDA Southwest Chapter PRIDE Awards, Award of Merit: Healthcare, 2015
Arizona Forward Association Environmental Excellence Award, Healthy Communities, Sustainable Communities, Award of Merit, 2015
Mayor's Commission on Disability Issues, Architectural Award, 2016