Catholic University of America - Father O'Connell Hall Renovation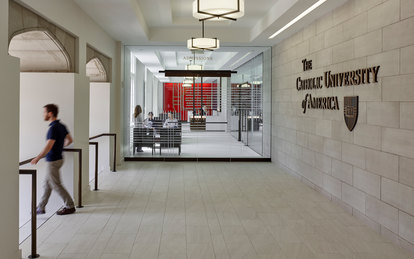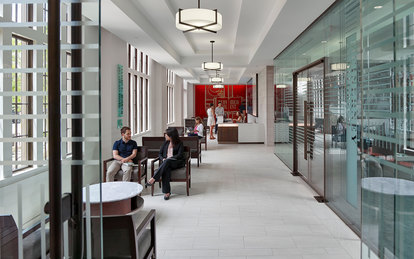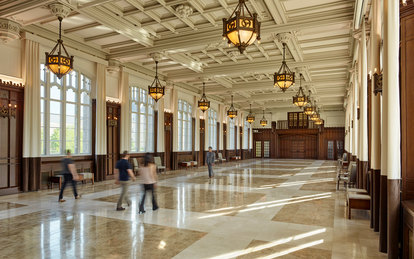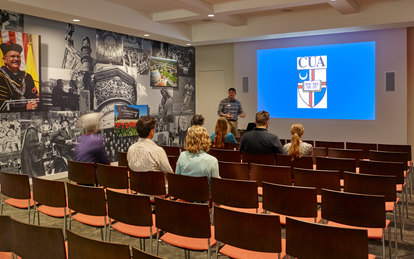 The renovation of Father O'Connell Hall provided an opportunity to replace inefficient systems with new sustainable systems, provide greater user comfort, and blend seamlessly into the historic fabric. The revitalized Father O'Connell Hall creates a symbolic gateway into the University, conveying both the University's strong traditions and its innovative academic programs.
客户
Catholic University of America
位置
Washington, DC
市场/服务
Architecture, Higher Education, Historic Preservation, Interiors, MEP Engineering, Student Life
大小
69,000 SF
特色奖项
Built by Women DC, Team Award, 2016

Engineering News-Record, Best Renovation/Restoration, ENR Mid-Atlantic, 2015
American Society of Heating, Refrigerating and Air-Conditioning Engineers (ASHRAE), Honorable Mention, Educational Facility - Existing Building, 2015
NAIOP DC/MD, Best Renovation - Historic Restoration, 2015
A prominent landmark on the Catholic University of America's campus, Father O'Connell Hall is a collegiate gothic-style building composed of two wings hosting a 1914 residence and dining hall, and a 1960s addition. Vacant and underutilized for years, the reinvigorated campus icon serves as an event space and is home to the University's Admissions, Enrollment, and Student Services Departments.
The design encompasses the entire sequence of activities for visitors including perspective students and their families, and for students utilizing financial aid, advising, and enrollment services. From their initial impression, parking and traversing the campus, through being greeted and receiving admissions tours, a primary intention is to convey both the strong traditions of Catholic University and the vitality of its innovative academic programs and dynamic campus life.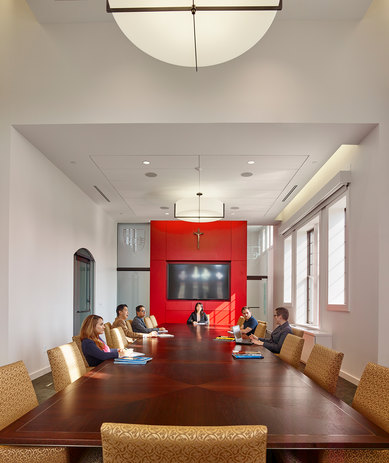 The design embraces a campus precinct that is radically changing in character; a major new mixed-use residential development and a public-private partnership. Rather than simply deferring to the major campus space surrounding the adjacent Cathedral of the Immaculate Conception, the renovation defines a new precinct plan that accommodates new programmatic functions for admissions groups and events that will also serve as a significant new foreground to the entire campus.