STREET CRED: The Design Legacy of Main Street, Ann Arbor
Spring has finally arrived here in Ann Arbor, Michigan, and Main Street has come alive with throngs of people promenading through town and lingering in the sidewalk cafes. I am always eager to show Main Street to out-of-town visitors and see how pleasantly surprised they are by the vibrancy and bustle in our small town. While Ann Arbor lacks a central urban park or open space, Main Street has become our central gathering space. Main Street is the place to feel connected to the community, casually run into one's neighbors, and feel the pulse of Ann Arbor. Consistently recognized among the top streets in the nation, Main Street is a successful example of how a street designed for people can become so much more.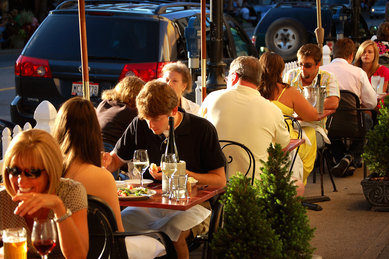 As a designer, I've often tried to identify what differentiates Main Street as such a distinct and successful place. The aesthetic design is rather simple and understated, and I've come to realize that the street's simplicity is a perfect neutral platform that can be adapted to changes in culture and trends. Its design creates a comfortable pedestrian scale and environment that is an ideal stage upon which the theater of street life can take place, allowing for the ephemeral spontaneity that gives the street its energy.
I recently attended the 2015 ASLA Annual Meeting conference, where I heard Shannon Nichol of Gustafson Guthrie Nichol describe a method of street design they had used for their Pike Pine Renaissance Project. Their system included looking at a street in three distinct layers:
The deep layer is the allocation and balancing of physical space for people, cars and multimodal transportation, as well as the architectural "walls" that frame and contribute to the street's scale and character.
The middle layer is where landscape architects frequently work with pavement, furnishings and plantings. This layer can be thought of as a stage on which exciting things can happen.
The light layer consists of the ever-changing life that makes a street vibrant and memorable. It includes all of the non-permanent elements such as people, activities, and installations that allow a street to adapt and change with time.
From a deep layer design perspective, Main Street is doing many things right: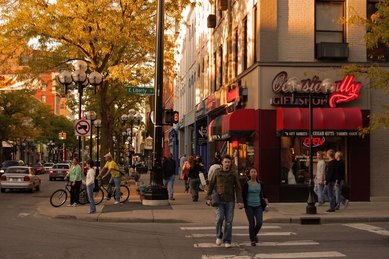 Pedestrian Space: The generous sidewalks provide ample room for pedestrian activity and for flexibility of use, including the many sidewalk cafes. Additionally, there is plenty of unprogrammed space that allows for spontaneity—an important factor in encouraging street life.
Traffic Calming: On-street parking buffers pedestrians from traffic, and helps retailers draw customers. Curb bump-outs at intersections extend the sidewalk to visually cue drivers to slow down, and allow crowds to queue before crossing.  This enlarged sidewalk zone also provides space for large street tree planters and extended café seating.
 Safety: Main Street supports and attracts a steady flow of vehicular and pedestrian traffic 24/7.  These "eyes on the street" increase safety and add to the downtown's vibrancy.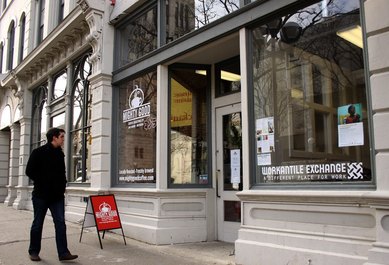 Architectural Facades: The buildings that line Main Street create a consistent yet interesting, architectural wall. Visually, the facades are highly permeable, with large windows that invite people to peer inside and create a stimulating walking environment. The scale of the buildings is a comfortable 2-3 stories that allows for a mix of uses (both residential and retail) yet still allows adequate natural light down into the street. The architectural character along Main Street is charming and varied, with enough aesthetic detail and articulation to provide visual interest to pedestrians passing by.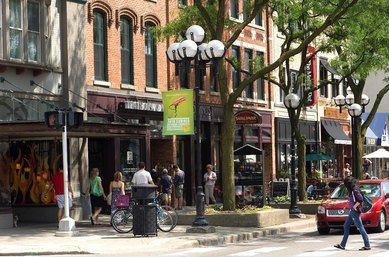 When looking at the middle layer, Main Street has many iconic elements that create an identity and a sense of place:
Tree Canopy: The graceful Honey Locust trees provide a sense of enclosure by creating a green ceiling, softening the scale of the sidewalk and providing shade for comfort in the warm months.  Additionally, the trees help frame views down the street.
Planter Seating: The simple concrete tree planters provide informal seating options. People waiting for a table or to meet friends often take a seat on their wide edges. The planters also provide adequate room for the trees to thrive, and allow for seasonal plantings to brighten the streetscape.
Custom Lightpoles: One of the most iconic elements of Main Street are the custom light fixtures. A pleasant hybrid between historic and modern design, these fixtures are unique to Ann Arbor and help craft the street's visual brand and identity. By using LED fixtures, they also reflect Ann Arbor's commitment to sustainability and its tradition of innovation.

The last layer, the light layer, is always changing and adapting. It includes all of the temporary, spontaneous, novel, unique elements that aren't necessarily planned or designed, but are needed to create vibrant street life. A few examples include:
The variety of restaurant café seating and furniture
Retail sign boards and sidewalk displays
Street musicians such as the iconic Violin Monster
Street art
Temporary holiday lighting and winter ice sculptures
The mix of unique, family-owned retail and restaurants
Planned and programmed events such as the famous Ann Arbor Art Fair, FestiFools public art procession, the Taste of Ann Arbor food festival, and numerous other street fairs and events.
Main Street's legacy as a successful street and public space demonstrates the lasting power of investment in the pedestrian realm. All of the factors that contribute to Main Street's success focus on creating a pleasant and interesting environment for people. The simplicity and elegance of the original design has stood the test of time and continues to provide a framework that allows the creative and social energy of the community to thrive.