Fast Company Recognizes the Innovative Design of Rancho Los Amigos National Rehabilitation Center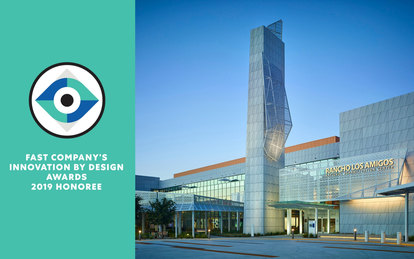 The Rancho Los Amigos National Rehabilitation Center has been recognized in Fast Company's 2019 Innovation by Design Awards, a program that recognizes people, teams and companies solving problems through design. The SmithGroup-designed project received an honorable mention in the Spaces, Places and Cities category, where projects that improve the world around us, including architecture, landscapes, urban and civic design, are celebrated. 
Despite outdated facilities, Rancho Los Amigos was providing exceptional treatment for adult and pediatric patients recovering from life-changing illness or injuries. Threatened with closure, the premier recovery and rehabilitation center operated by the County of Los Angeles has emerged anew from a rehabilitation process of its own. SmithGroup, in collaboration with executive architect Taylor Design, developed a master plan for the transformation of the campus that had grown from county poor farm a century ago into a widely lauded rehabilitation hospital.
The redesigned campus now serves as an indoor-outdoor recovery zone. Rehabilitation extends far beyond the walls of the hospital for patients who may spend months or years in recovery. Expansive, dual-purpose outdoor rooms double as rehabilitation spaces, laced by a ribbon of healing gardens and terraces, large plazas, and amphitheaters. The materiality of the exterior, the looping pathways of the gardens and finishes in the interior are a subtle nod to the weaving art therapy that was once synonymous with Rancho.
A historic Mission Revival building on the site provides further inspiration for the new and renovated structures placed around the central plaza that defines a new heart of the campus. Accentuating the now cohesive campus, an iconic, 107-foot tower gestures to this history while bringing in modern textural elements. Buildings are clad in an undulating, perforated metal scrim reminiscent of the massive orange groves that once dominated the site. SmithGroup also designed the new community wellness center, an expanded and modernized hospital, and a new, three-story outpatient center consolidates ambulatory services for the first time in one location.
The transformed Rancho Los Amigos today provides patients, staff and the surrounding community a cutting-edge destination center of wellness featuring the most advanced rehabilitation technologies in a holistic, human-centered environment. Its planning, design and sustainability have been repeatedly recognized by numerous awards programs.
Fast Company's Innovation by Design Awards is the only competition that honors creative work at the intersection of design, business, and innovation. This marks the second year SmithGroup has been recognized in the program—earning the distinction of being named a Design Company of the Year and recognition for three projects in 2018.
The Innovation by Design awards can be found in the October 2019 print issue of Fast Company, available on September 17th. In 2019, they have honored an influential and diverse group of 483 projects, products and services spanning industries from fashion, architecture, graphic design, data visualization, social good, user experience and mobility. To view a complete list of honorees, visit: http://www.fastcompany.com/innovation-by-design/2019
For more information about SmithGroup, please visit our Company Fact Sheet.