Veteran's Affairs Rehabilitation Center Recognized by American Institute of Architects for Healthcare Design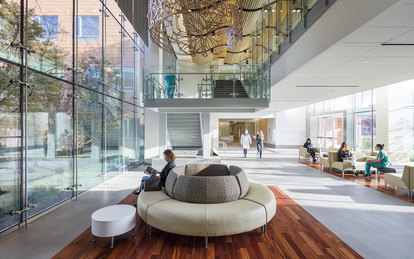 The American Institute of Architects (AIA) Academy of Architecture for Health (AAH) has recognized the Department of Veteran's Affairs Palo Alto Polytrauma and Blind Rehabilitation Center project in its prestigious 2019 Healthcare Design Awards program. Designed by SmithGroup, the 174,000 sf center is the largest federal rehabilitation center in the United States.
Each year, the AAH Healthcare Design Awards showcase the best of healthcare building design, planning, and research. The five projects honored this year highlight the latest innovation and trends in healthcare design, with a focus on community, sensory experience, and patient dignity.
Opened in 2017, the Polytrauma and Blind Rehabilitation Center is the only federal rehabilitation center to house polytrauma and blind rehabilitation services under one roof. This new interdisciplinary approach to patient care gives veterans access to a wide range of services, from physical and occupational therapy to living skills training for the vision-impaired.
Advances in battlefield medicine and armor mean that many soldiers—who in previous wars would have died from their wounds—are now surviving, but are returning with multiple, more traumatic injuries, or polytraumas, requiring long-term rehabilitation. A growing population of veterans of previous wars also have age-related disabilities and impairments, often as a result of old injuries.
SmithGroup improved the patient experience by designing this advanced facility for all five senses. Working in a diverse palette of tactile, visual, and auditory elements, the design team created an immersive, human-centered environment that re-envisions accessibility, universal-design, and the user experience. To address these needs for visually-impaired patients specifically, SmithGroup collaborated with Chris Downey, an architect who had lost his sight. The resulting center is a model for reinforcing equity by design in the built environment—minimizing physical and sensory barriers to maximize the potential for success.
The Polytrauma and Blind Rehabilitation Center also received a 2018 Fast Company Innovation by Design award.  
SmithGroup's San Francisco, California office provided integrated design services including medical planning, programming, architecture and interior architecture. The Design Partnership LLP served as Associate Architect, and the general contractor was Walsh/DeMaria, a joint venture. Other key design team members include acoustical engineering by Charles M. Salter Associates, Inc., civil engineering by BKF Engineers, mechanical engineering and plumbing design by Capital Engineering Consultants, Inc., electrical engineering by Guttmann & Blaevoet | Cammisa + Wipf, and structural engineering by Degenkolb Engineering.
For more information about SmithGroup, please visit our Company Fact Sheet.