Baltimore Will Host Society's Cage Installation, October 19-30, 2020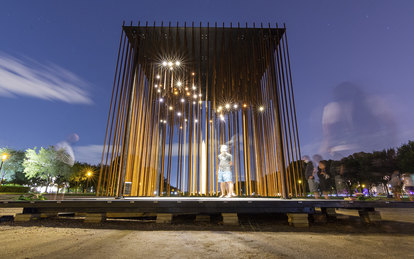 The Society's Cage experiential installation will be exhibited in Baltimore, Maryland on War Memorial Plaza at 101 North Gay Street. The installation will be open to the public from Monday, October 19 through Friday, October 30, 9 AM - 9 PM daily.
Society's Cage debuts in Baltimore in partnership with the Baltimore Office of Promotion & The Arts (BOPA) as a signature event for their 2020 Free Fall Baltimore festival. The Baltimore chapter of the American Institute of Architects (AIA Baltimore) is supporting the installation's tenure with programming.
"We designed Society's Cage to educate through an immersive experience based in data, and are excited we are able to bring the installation to a new audience in Baltimore," says lead designers Dayton Schroeter, a principal at SmithGroup. "War Memorial Plaza and its surrounding landmarks provides the perfect setting for the installation, lending an appropriate juxtaposition for reflecting on the power structures that reinforce oppression and how to dismantle them toward an equitable society."
The Society's Cage installation was originally initiated by a diverse team of architects in the Washington, DC office of SmithGorup, one of the nation's leading integrated design firms. The design team was moved to create the installation in the aftermath of the murders of Breonna Taylor and George Floyd, in solidarity with the Black Lives Matter movement.
"The Baltimore Office of Promotion & The Arts is thrilled to bring the Society's Cage installation to Baltimore City after its success in our nation's capital. We can imagine no better way to celebrate National Arts and Humanities Month than with this timely work of art that speaks so deeply to our present moment. With Society's Cage we hope Baltimore is inspired to consider the ways in which the arts can educate and inspire us to continue to seek justice and promote healing," says Donna Drew Sawyer, CEO at Baltimore Office of Promotion & The Arts.
The first exhibition of Society's Cage was timed to coincide with the 2020 March on Washington on August 28, 2020. Thousands visited the installation during the 16 days it was installed at the 12th Street NW site on the National Mall.
SmithGroup is the lead sponsor for Society's Cage and is partnered with the Architects Foundation to raise funds for their Diversity Advancement scholarship program through the installation, to support historically underrepresented youth to pursue careers in architecture.
Baltimore Office of Promotion & The Arts (www.promotionandarts.org) is a 501(c)(3) nonprofit organization which serves as Baltimore City's arts council, events center and film office. By providing funding and support to artists, arts programs and organizations across the city, and by producing large-scale events such as Artscape, Baltimore Book Festival and Light City, BOPA's goal is to make Baltimore a more vibrant and creative city.
AIA Baltimore (www.aiabaltimore.org) serves as the voice for the architecture profession in the Baltimore metropolitan area. By advancing our values of community, knowledge and advocacy, AIA Baltimore strives to make the Baltimore region a better place to live, work and play. AIA Baltimore will open a new Center for Architecture and Design at One Charles Center on October 30 and will celebrate its 150th anniversary in 2021.
The Architects Foundation (www.architectsfoundation.org) leads philanthropic efforts to attract, inspire and invest in a next-generation design community through scholarships and exhibitions.
For more information about SmithGroup, please visit our Company Fact Sheet.