The Steel City. The 'Burgh. The City of Bridges. A city with such a rich identity is the perfect place for a firm that offers so many different perspectives to solve complex urban issues. Our presence in Pittsburgh embraces SmithGroup's brand promise to Design A Better Future, aligning our local experts and national expertise with a community that creates opportunities to achieve a common goal. Located in the heart of downtown, our office sits in the iconic PPG Place, considered the jewel of the city's skyline.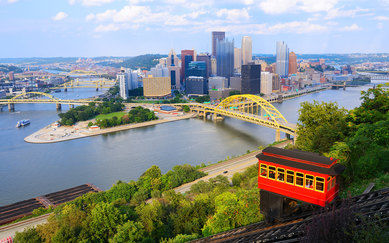 Our team is deeply connected and committed to the community, with ties to Carnegie Mellon University, University of Pittsburgh, the Pittsburgh Downtown Partnership, Urban Redevelopment Authority, and the city's Riverlife and Envision Downtown technical committees. This team has worked on some of the city's most progressive projects at a variety of scales, including PNC Tower, Hazelwood Green, the 8th Street Block master plan and the Pitt Sustainability Plan.
SmithGroup's international expertise in the Higher Education, Healthcare, Urban Design and Waterfront markets offers a strong synergy with Pittsburgh's transition into an innovation economy and an inclusive, connected city for all.    Our presence here, and our ability to bridge to our subject matter experts across the firm, presents many opportunities to deepen our relationships in the city in the coming years.