How Universities Are Falling Back in Love With Their Brutalist Buildings
I've been thinking about Brutalism lately. Several universities in the Washington, DC area—which is an epicenter of the concrete-heavy mid-century style—have recently commissioned feasibility studies to decide the fate of their Brutalist campus buildings. It's easy to see why; built between the 1950s and the 1970s, Brutalist buildings are now nearing the end of their expected lifespan. But aside from the sheer age of the buildings, many people have never liked the style that has been called "the most divisive school of architecture in the twentieth century."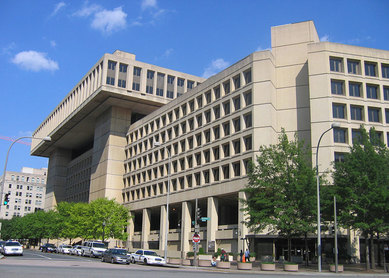 Described alternately as stark, austere, or expressive depending on whom you ask, the hulking concrete masses of Brutalist architecture were originally celebrated as a triumph of functionalism and honesty in materials. Governments and universities embraced the style for its inexpensiveness and durability, both of which are due to its reliance on molded concrete. However, critics (famously including Britain's Prince Charles), find the style cold and unappealing; in addition, raw concrete facades don't age well in damp climates, adding to the perception that Brutalist buildings are eyesores.
For universities that pride themselves on their facilities and view them as a draw for top students and faculty, Brutalist buildings present a conundrum: tear them down, or try to renovate them to meet the needs of a modern college campus?
The Case for Renovation
For insight into universities' options regarding their aging concrete structures I turned to Josh Vacca, RA, LEED AP BD+C. For the past two years, Josh has been working on SmithGroupJJR's renovation and addition to Indiana University Bloomington's Assembly Hall basketball arena, and he disagrees with the idea that Brutalist buildings are incompatible with the needs of today's universities. Josh explains that, contrary to what some might think, "the expressed structure and materiality [of Brutalist buildings] can provide a strong design framework for renovated and repurposed facilities."
While Josh acknowledges that Brutalist buildings can feel dark and closed-in by today's standards, he thinks they have high renovation potential. For one thing, he finds that Brutalist buildings tend to be structurally sound—"they're massive concrete structures, they're not going anywhere. It's almost hard to argue that you should knock [a building] down when you have such a strong base to work with." This sentiment is in line with sustainable design thinking, which prioritizes the renovation and reuse of existing buildings over new construction.
Transforming Assembly Hall
For Assembly Hall, the design team's goal was to honor the building's original 1971 design while adding modern amenities and creating a light-filled entrance experience. The building, designed by the New York firm of Eggers & Higgins, is the home of the Indiana Hoosiers men's and women's basketball teams. Josh calls the building "extremely iconic," adding that it's "one of the major hallowed grounds of college basketball." Fans love that the steep slope of the arena's seating lets them feel close to the action; opposing teams are intimidated by the high noise levels created by the unusual configuration.
Despite the building's prominence both on the IU campus and as the home of a Big Ten athletic program, in 2007 IU's Board of Trustees voted to demolish the building and replace it with a new arena. However, by 2013, the University had hired SmithGroupJJR to renovate the building instead. Why the change of heart? Josh thinks the board pivoted to renovation "because they love the building—it's iconic and historic, and they didn't want to lose that. And they wanted to maintain that home-court advantage."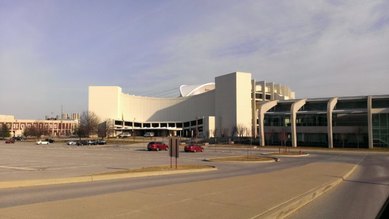 The university did want to make some changes, though. Before the renovation, fans entered through either the north or south lobby, both of which had low concrete ceilings and featureless walls, and were immediately shuttled toward ramps that led up to the concourses and seating. Practical, yes, but not very exciting.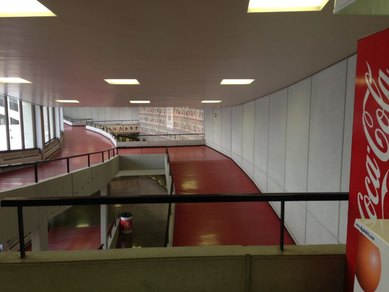 SmithGroupJJR's renovation sought to improve the fan experience while being true to the character of the building, the aesthetic of which is echoed across the IU athletic campus—Josh calls it an "exposed concrete rib aesthetic." The most dramatic change is the addition of a glass atrium to the south lobby, which faces toward the main campus and becomes a beacon on game nights. The ramps have been replaced by two monumental staircases with escalators, and the blank interior wall that originally greeted visitors has been opened up to provide a view of the court below. The exterior glass curtain wall is supported by pre-cast concrete columns that relate to the exposed ribs on the sides of the building and the adjacent Cook Hall.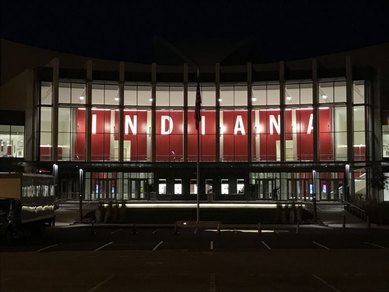 While Assembly Hall hasn't officially opened yet, early reviews are enthusiastic. Fred Glass, IUB's Athletics Director, thinks "fans are gonna be like, wow, they kept the iconic feel of the old place, but through technology and amenities improved it." CBS Sports is also impressed. We'll find out what students and fans think on November 16, when the Hoosiers play UMass Lowell in the first regular-season game in the renovated space.
A New Brutalism
All of which is to say, there is definitely hope for Brutalist campus buildings. Renovations and additions can breathe new life into these structures, making them over for a new generation. Even unrenovated Brutalist buildings are beginning to get some love—recent articles in the New York Times, the Financial Times, and the Guardian describe a growing appreciation for the Brutalist aesthetic and a strengthening preservation movement for these structures. In 2015 the Metropolitan Museum of Art gave the style a stamp of approval by moving part of its modern art collection into a Marcel Breuer-designed building (formerly inhabited by the Whitney Museum of American Art), now called the Met Breuer.
Josh says universities should seriously consider renovation rather than replacement for their Brutalist buildings. "Even though the bones of [a] building might be pretty heavy and seem like they'd be hard to work with," he says architects can usually find a way to exploit the building's strengths while working around its weaknesses. He suggests universities "renovate the portions that need to really remain, and do some additions that still relate to and feel integrated with the existing architecture." By deciding to invest in their existing Brutalist buildings, universities can have the best of both worlds: keep the buildings alumni remember fondly, while appealing to today's students and faculty.