Restoring the Heartbeat of a Historic Milwaukee Community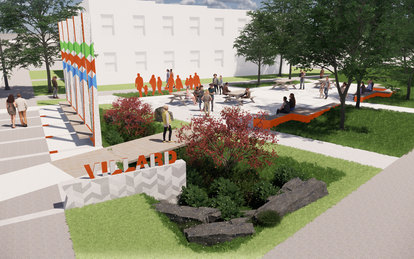 Once considered the heart of the Wisconsin community formerly known as North Milwaukee, the Villard Avenue corridor holds a meaningful place in the region's history. Originally home to German immigrants who settled along its industrial rail lines, the area was annexed by the City of Milwaukee in the 1920s. As time marched on, the neighborhood continued its transition, evolving in the mid-to-late 20th century from a predominantly white community to a largely professional-class African American population. Like many other industrialized cities, the last half-century brought tremendous challenges, as the continued loss of industrial jobs led the area to experience decline.
Additional economic factors compounded these challenges, leaving the corridor with a surplus of vacant lots and empty storefronts, as well as a high percentage of privately-owned parcels that also fell into neglect. These issues paired with high traffic speeds and reckless driving led the corridor to feel uncomfortable and unwelcoming to pedestrians and bicyclists. As a result, Villard Avenue faded into a remnant of more prosperous times.
Recently, commitment to the region began to change, with local businesses taking action to restore the culturally rich corridor to its once vibrant state. Today, committed champions are making bold strides to re-envision and re-imagine the future of this historic neighborhood – including substantial investments in two mixed-use housing developments and the opening of a new public library.
Hoping to spark new life in the district and leverage these projects as catalysts for continued progress, the Villard Avenue Business Improvement District (BID), led by Angelique Sharpe, launched a parallel strategic planning and rebranding exercise in 2019.  Central to this initiative was a series of virtual workshops hosted by the University of Wisconsin-Milwaukee's Community Design Solutions (a fully funded design center within the university's School of Architecture & Urban Planning) to gather insight from the BID and neighborhood stakeholders. A key participant in this effort, SmithGroup worked closely with these groups to distill feedback that could be used to shape a guiding vision for the corridor.
While COVID-19 posed a challenge, the BID was not going to let this stop their progress. According to Angelique, "Having a sheer determination to revitalize our business corridor no matter what was all the motivation we needed to push forward through a pandemic to complete the City of Milwaukee's first virtual charrette. For us, it was imperative that our district design concepts incorporate the desires from within our community and exceed everyone's expectations."
To help guide discussions during the workshops, members of the SmithGroup team shared the firm's streetscape and placemaking toolkit, which included examples of other successful retail corridors and streetscapes within Milwaukee and elsewhere. These examples helped to generate inspiration among stakeholders and gave the team a better understanding of priorities and aesthetic preferences. Key takeaways from the sessions revealed that the following should be considered top priorities for the district moving forward:
Enhancements to multi-modal connections, especially the addition of protected bike lanes
Creation of a safe and welcoming pedestrian environment, including a variety of places for the community to congregate
Additional elements and features to enhance identity, beautification and vibrancy around current establishments and help attract new business to the area
It was also deemed important that repositioning efforts should build upon pride in the area's most historic landmarks (such as the old theater), as well as existing, locally owned night clubs, restaurants and entertainment venues.
After synthesizing and discussing feedback provided in these sessions, the shared vision that emerged is that Villard be positioned as a vibrant, pedestrian and bike-friendly district where businesses thrive, residents engage with each other, and there is neighborhood pride and a sense of community.
The revived area will be comprised of a Cultural District, an Entertainment District, and an Artisan District (a tribute to the area's original manufacturing roots). To help the city achieve this vision, SmithGroup developed a comprehensive plan that calls for the following improvements:
Bike-Friendly Streets: SmithGroup's proposed design solution narrows drive lanes to slow traffic and accommodate protected bike lanes, enhanced parking options, larger islands at transit stops, and more room for landscape features and amenities. In addition, the bike lanes are suggested to be elevated to sidewalk-level, providing an added safety measure by physically separating bikes and cars.
Short-Term Tactical Interventions: Like many cities, Milwaukee is grappling with a myriad of resource and budgeting challenges. While major improvements are forthcoming, the team highlighted several opportunities for improvements that can be implemented immediately to enhance the corridor. These near-term measures include colorfully painted curb extensions, creation of parklets to accommodate outdoor dining or gathering space, commissioning of murals and art installations, and building on the existing hanging baskets and seasonal decorations to further enhance pride, beauty and identity within the corridor.
Long-Term Identity Enhancements: The team has suggested that the re-imagined public realm should include decorative paving, plantings, signage, lighting, and seating, especially concentrated in the heart of the neighborhood center. 
Community Hub: Transform an existing vacant lot into a flexible multi-use plaza with unique seating, community-based art, planting, stormwater enhancements and decorative pavement that can become a living room for the community.
Since leading the community workshops that helped shape this vision for the district, Angelique Sharpe continues to meet with business owners and has implemented elements from SmithGroup's comprehensive plan to advance enhancements within the corridor. Improvements realized to date include the installation of historic replica Harp lights, branded bus shelters and banners, and hanging pots along the 0.8-mile-long corridor between North Sherman Boulevard and North Teutonia Avenue. This summer, a series of new mural projects were unveiled around the district, called Visual Vibes on Villard which further activate and breath new life into the corridor and highlight the culture of the community.  
The tale of historic Villard Avenue's decline is a story with which many cities across the Midwest and along the Rust Belt can relate. And the efforts that have been put in place – as well as those that are still to come – are shining examples of how driven and inspired leaders (paired with an experienced design partner) can positively affect the trajectory of a community. Villard Avenue is poised for an exciting new chapter in its storied history. We invite you to check back often as we continue to share its comeback.