With Greater Disasters Comes Greater Responsibility for Resilience
When developing my SmithGroup Exploration Grant proposal on the resiliency of hospitals and healthcare organizations in 2016, I considered focusing on preparedness for infectious disease pandemics. Ultimately, I decided on earthquakes because it seemed like a more probable occurrence in Southern California. Who could have guessed that a once-in-a-generation pandemic would occur just a few years later?
Though the COVID-19 pandemic may have felt like a Black Swan event (an unpredictable catastrophic event beyond what could be expected or prepared for), we have come to learn that warnings about a global pandemic similar to SARS-CoV-2 were published in medical research and reports for decades. Time Magazine was sounding the alarm in 2017 that not only was a pandemic likely within the next 10 years, we were also unprepared for it.
As designers of the built environment, we can play a substantial role in breaking this pattern. We hold seats at a table where decisions about the future of the built environment are made. We can offer real solutions for innovative healthcare delivery that anticipate future crises and disasters and build in the capacity to better withstand and recover from them.
COVID has reminded us how essential hospitals are during times of crisis, and that they must not only be efficient, but also resilient and adaptable. As we come out of this pandemic, designers need to answer a new set of questions:
How can our work contribute to this needed resiliency?
How can design keep up with the changing needs of its users as well as the growing risks posed by a changing climate?
How can we work with our clients to better examine the cost/benefit of resilience?
Usually after a crisis, as we have seen with earthquakes in California, the building code tries to catch up with the lessons learned; how do we anticipate and even advocate for building code changes as a result of the pandemic?
The COVID-19 pandemic resulted in many design-related innovations in healthcare delivery, including conversions of patient rooms to temporary isolation treatment rooms, and repurposing spaces to fit the rapidly changing needs of the users. If we can identify and act on the lessons learned by hospitals across the nation in converting patient beds to isolation rooms, we can understand how best to design more adaptable space to fit changing acuity needs. Easily convertible patient rooms can increase efficiency in healthcare delivery and throughput, save costs in building resources and energy, and better adapt to a sudden crisis.
"CONVERTIBLE" PATIENT ROOMS
We also need to understand the role hospitals and healthcare design can play in addressing climate change. We often associate building resilience with the hardening of the structure and redundancy of the infrastructure, all of which add more materials, energy, and resources that contribute to global greenhouse gas emissions. But to what extent can resilience also be increased through flexibility and adaptability? Can we start to build more resilient hospitals that generate less carbon throughout their entire life cycle – and that can also be adaptively reused and repurposed more effectively?
Healthcare organizations in California are coming up against this issue of the adaptability of their hospitals over the next nine years. Under Senate Bill 1953, California hospitals have until 2030 to make regulatory seismic upgrades to continue to operate. What happens after 2030, when over 775 hospitals across the state are to be decommissioned or abandoned? Too often, the wasteful and carbon-detrimental trend is to demolish old buildings and build new from the ground up. But what if new facilities were more intentionally designed for future adaptation and adaptive reuse? Designing for adaptability extends the life of materials and buildings, conserves resources, and avoids environmental pollution associated with new manufacturing and construction.
Hospitals are often large enough to accommodate various uses and occupancies. They are often built of materials meant to have long life spans. They also tend to be centrally located in their communities and on campuses that receive heavy traffic every day and serve a wide range of people in that region. There is great potential for the adaptive reuse of these buildings to continue to serve the community.
As healthcare designers, how can we support the adaptive reuse of decommissioned hospital buildings? Repurposed patient rooms could provide housing. Former hospitals could host live/work communities, adapt kitchens and cafeterias to new restaurants and food shops, and convert old care suites to day clinics and old pharmacies to new offices.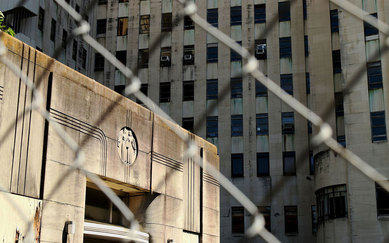 The next decade is a pivotal time to learn from the past and prepare for the future. We cannot afford to react to the next disaster and act like we didn't see it coming. We can play a vital role in creating resilient and innovative healthcare solutions with the built-in flexibility and capacity to weather future storms, and to extend long-term benefits to our communities and the environment.