Abraham Lincoln National Cemetery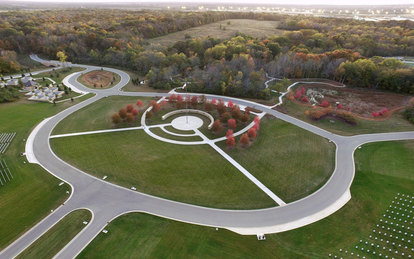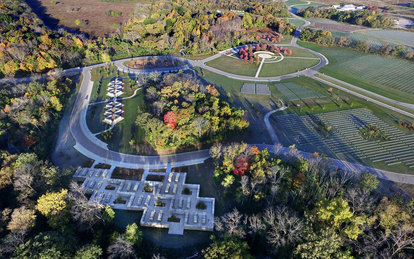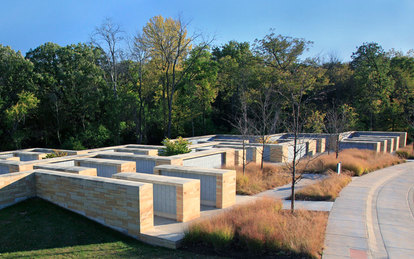 The Abraham Lincoln National Cemetery is a place for families to honor and remember their loved ones in a space that reflects the landscape of the home state of the 16th President of the United States. 
Client
Veteran's Affairs, NCA
Location
Elmwood, Illinois
Markets/Services
Cultural, Cultural Landscapes, Landscape Architecture, Public Spaces
Size
982 AC
In consoling a mother who had lost sons in the Civil War, Abraham Lincoln described the loss as "...placing so great a sacrifice upon the altar of freedom." The Abraham Lincoln National Cemetery honors its interred Veterans with a similar care and solemnity. SmithGroup partnered with the Department of Veterans Affairs to create a design for Phase 2 of development at the cemetery where the experience of the family visitor was paramount and reflected the great sacrifice of Veterans.
As prime consultant directing civil engineering, landscape architecture and other services, SmithGroup led a team of subconsultants from small Veteran-owned enterprises. The two overarching goals were to identify four burial expansion areas to increase capacity, while also maintaining and protecting certain wooded areas. Our work considered the three methods of laying Veterans to rest: in-ground cremated remains; full-casket preplaced crypts; and a columbarium plaza for interment of funerary urns.
A pair of monumental pillars creates a new identity for the cemetery entrance and provides a grand entry sequence commensurate with the importance of the site. The redesigned entry road features a sweeping curve that furthers the entry and arrival sequence and isolates the administration and maintenance areas. A grand boulevard was designed with a termination at a crescent-shaped grassy knoll assembly area anchored by a large American flag.
An ADA-accessible columbarium plaza is terraced down and nestled into the existing woodlands, creating a more intimate and memorable experience. The design uses two grade steps to minimize the number of towering 5-high niche unit walls achieving the targeted burial capacity.
Restoring parts of the historic Illinois prairie landscape was another important goal. Prairie plantings were reintroduced to reduce unnecessary maintenance and restore the groundcover. A bioswale pre-treats runoff and utilizes tree transplants from the realigned entry road alignment.
With the new expansion of the Abraham Lincoln Cemetery, families and visitors alike can now continue to pay tribute to deceased Veterans in a place that respectfully honors the sacrifice that so many have made for the United States.